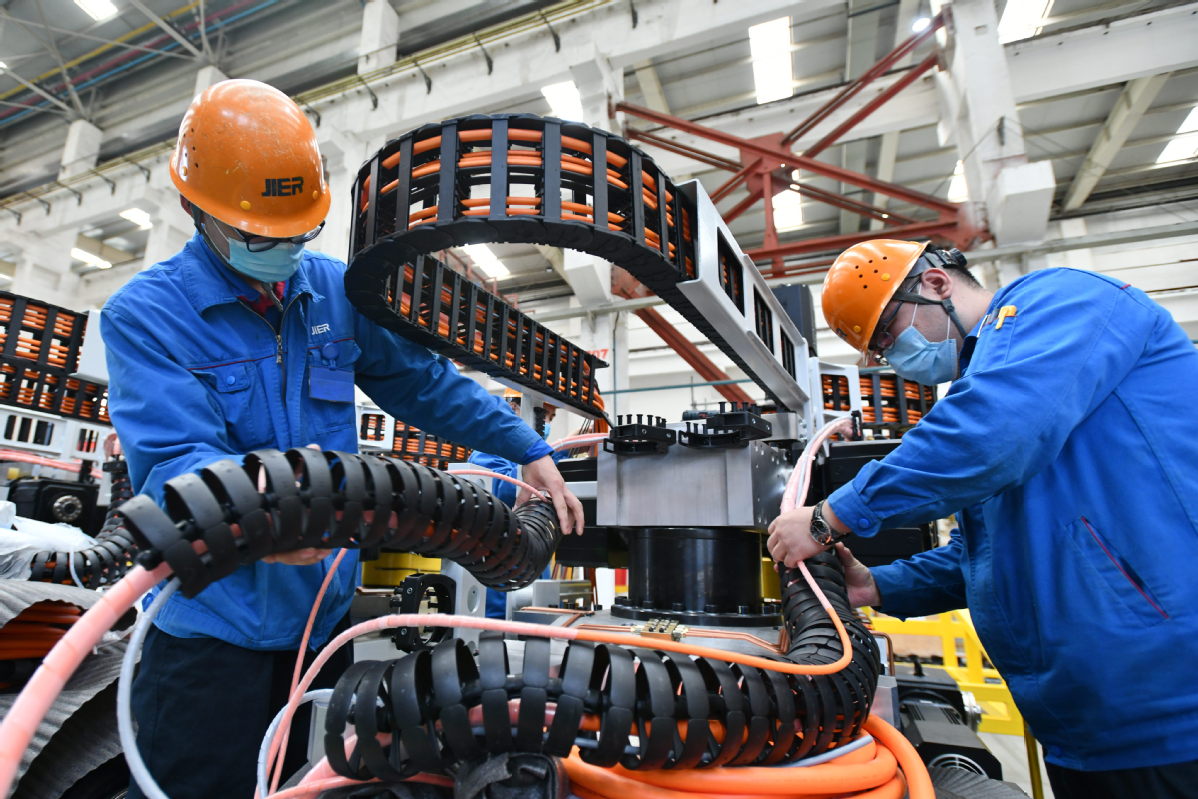 Workers assemble automation equipment at a plant of Jier Machine-Tool Group Co Ltd in Jinan, East China's Shandong Province, on March 31, 2020. [Photo/Xinhua]
The Ministry of Commerce will work with policy and commercial banks as well as other financial institutions to introduce effective measures to alleviate corporate financing difficulties for companies in need, promote consumption, stabilize foreign trade and the flow of foreign direct investment, the ministry said on Monday.
The ministry has asked commerce authorities across the country to carry out in-depth investigations and research through questionnaire surveys, field visits, symposiums and other methods to closely communicate with both foreign-investment and domestic companies, to resolve companies' financial difficulties, including high financing costs, prolonged approval procedures and other issues, said a circular issued by the ministry.
The move aims to collect information regarding financing constraints from key foreign-invested and Chinese export-oriented companies, commercial circulation firms, core supply chain businesses, small and medium-sized enterprises, and report them to the government in a timely manner, to further optimize their services and coordinated efforts in solving corporate hurdles.
Local governments need to collect the feedback on the policies from companies that have already implemented the same and submit firsthand information to the ministry for subsequent policy references, said the document.
They are also required to actively provide detailed financing difficulties of SMEs, labor-intensive companies, foreign-funded companies, leading importers and exporters, to provincial and city branches of the People's Bank of China, the central bank, and local financial institutions, as they are the core parts to stabilize the market and the region's supply and service chains.
To mitigate the effect of uncertainties arising from COVID-19 and the global market's weak goods demand, the Ministry of Commerce has signed a number of cooperation agreements and memoranda, as well as jointly issued work notices with financial institutions in the first half of this year to put the country's economic growth on a firmer footing.
The Fujian branch of the Export-Import Bank of China set up a 10 billion yuan ($1.43 billion) special fund for lending at low interest rate earlier this year, to support manufacturing companies, in particular leading exporters, in Fuzhou to ease their financing pressures. Under its policy, the loan term should not exceed six months, and guarantee exemption can be adopted for the enterprises that meet the normal operational conditions.
The government has been encouraging banks to support firms via supply chain financing by stabilizing operations of the upstream and downstream supply chain companies. This is necessary to ensure that the production capacity of foreign trade companies is sufficient, said Wang Xuguo, head of the Fujian branch of the Export-Import Bank of China.
Because cash flow is important for exporters, the bank has opened a special green channel to complete the approval process within three working days under the premise of controllable risks and compliance with regulatory requirements.
Central government branches such as the People's Bank of China and the Ministry of Finance also recently called on banking institutions to further delay repayments on inclusive loan principal and interest that reach maturity between June 1 and Dec 31. Large foreign trade companies that have temporary financial difficulties are also allowed to negotiate with banking institutions regarding this issue.
The implementation of these policy measures will cut financing costs of foreign trade companies, keep their capital chain steady and help them recover and maintain sufficient production capacity, said Sang Baichuan, an economics professor at the University of International Business and Economics in Beijing.