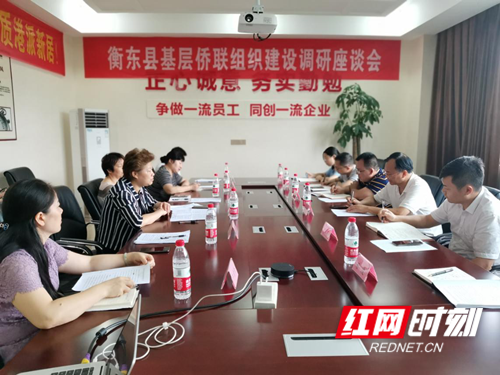 Grassroots FOC construction symposium in Hengdong county.
July 9, Li Zuyuan, vice chairman and party member of Hunan FOC, led a delegation to Hengyang for construction of grassroots overseas Chinese federation.
In Hengdong County Causeway Bay project site, Li Zuyuan focused on services for overseas Chinese enterprise, responsed by the city and county FOCs. In Hengdong County, Li held grassroots FOC construction symposium. Li Pointed out that it is necessary to learn from advanced practices to further understand the feelings of overseas Chinese and lay a solid foundation for the work of overseas Chinese Federation. We should strengthen the community-level construction and carry out the work of "home for Overseas Chinese" and "Cultural Exchange Base for Overseas Chinese". We will strengthen services for overseas Chinese, try every means to solve the practical difficulties of returning overseas Chinese and their relatives, and take the initiative to provide relevant services such as policy guidance for new overseas Chinese in making innovations and starting businesses.
In Hengyang County, Li Zuyuan and his team visited the former residence of Wang Chuanshan and Overseas Chinese Home in Xidu Town Hengyang County. After learning about the application for "Overseas Chinese Cultural Exchange Base" for the former residence of Wang Chuanshan, Li Zuyuan asked to further strengthen the protection of the former residence, explore the cultural connotation of the former residence, and promote the cultural exchange with foreign countries. In Overseas Chinese Home, Li Zuyuan had a discussion with returned overseas Chinese and overseas Chinese family members, understood in detail the situation of their relatives abroad, and carefully listened to their opinions and suggestions.
Jiang Hong , chairman of Hengyang FOC participated in the research trip.