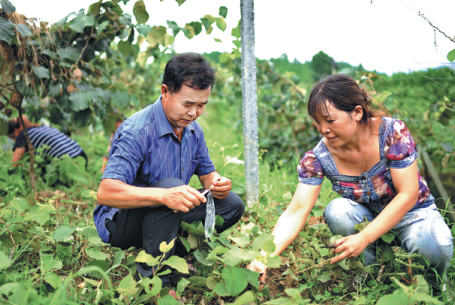 Wang Anquan (left), an agrotechnical expert, checks up kiwi at a garden in Changputang village. TONG DI/FOR CHINA DAILY
Changputang, once a poverty-stricken village in the county of Fenghuang in the Xiangxi Tujia and Miao autonomous prefecture, Hunan province, has become a demonstration zone for agriculture and rural revitalization thanks to targeted poverty-relief methods and the introduction of new technologies, local officials said.
The village's poverty rate has dropped to 0.59 percent. In 2019, the per capita disposable income of farmers reached 23,419 yuan ($3,345), and 90 percent of the annual income of fruit farmers exceeded 30,000 yuan.
Tang Jinsheng, deputy director of Changputang, said villagers only grew rice and corn in the past, and their annual income was only 600 yuan.
In 1982, local agricultural experts began learning new technologies, market trends and planting techniques.
The villagers began growing watermelons in 1982, honey pomelos in 1985, ponkan mandarin in 1988 and kiwis in 1995. Changputang has always valued the breakthrough and inheritance of agricultural technology.
Tang announced the Hunan Academy of Agricultural Sciences and Fenghuang county together have built an expert workstation in the village. Fruit farmers can directly contact the experts in the province through video, telephone and WeChat to receive guidance. The village has accumulated valuable experience by planting and almost all the villagers are now technical experts.
One of them is Wang Anquan, one of the earliest agro-technical specialists in the village.
He said the experience of planting kiwifruit, the pillar industry in the village, is special for him. "This kiwi can't handle either drought or waterlogging. We are not like the drought in the north, but the humidity is high, and the kiwifruit will be prone to problems within a few years."
Wang said the "Miliang No 1" kiwifruit is now a trademark of Changputang village. But when this variety was first introduced, it had encountered a severe ulcer disease, a deadly cancer of kiwifruit.
"We tried many ways to solve the problem, but all failed," Wang said. "Finally, Ding Qingqing in the village found a solution: first planting a carambola with strong moisture resistance, and then grafting the kiwi fruit to the carambola." In this way, the grafted kiwifruit is no longer overwhelmed by moisture, and the phenomenon of ulcer disease has been significantly improved, he said. "We have encountered a lot of problems, which are different every year. The thing about agriculture is to never be too old to learn."
The women's grafting team is a good example of Changputang village's technology-driven poverty alleviation.
The team currently has 247 members, who have carried out grafting technical services in provinces including Guizhou, Sichuan, Shaanxi and Chongqing municipality year-round. It generated more than 8 million yuan in revenue last year. Team leader Tian Xiangqun was one of the first workers in Changputang to do the outgoing graft, and witnessed the development of this team in person. As the kiwifruit industry in Changputang village grows bigger and bigger, neighboring towns and villages have begun to grow kiwifruit.
Feng Zhiwei and Song Jinliang contributed to this story.