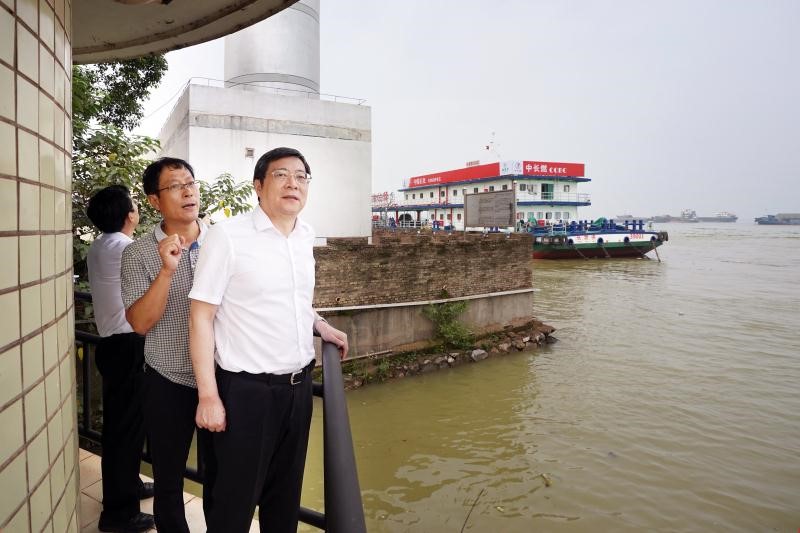 On July 14, Du Jiahao, CPC Hunan Provincial Committee secretary, learns about hydrological conditions and inspects flood control work at the Lianhuatang Hydrological Station in Yueyang.
On July 14, Du Jiahao, CPC Hunan Provincial Committee secretary, inspected flood control work in Yueyang. Secretary Du held talks with a delegation led by Ling Yueming, State Flood Control and Drought Relief Headquarters work team leader and vice minister of natural resources, to deploy tasks of the next phase. Secretary Du reiterated the need to stay alert against potential risks during flood control and disaster relief, called for governments at all levels to take responsibilities and carry out all their work in a solid and meticulous manner. Preparations should be made to strengthen the construction and management of flood storage polders, and ensure the safety of people's lives and property during the flood season.
Provincial leaders Zhang Jianfei and Chen Fei attended.
Du Jiahao and his entourage visited frontline workers at the Lianhuatang and Chenglingji Qilishan hydrological stations. He learned about hydrological conditions of the Yangtze River and Dongting Lake. Currently the water level in the Dongting Lake has started dropping but surpasses the warning level. Secretary Du stated that now there are intermittent rains and less upstream inflows, and we must take targeted measures to arrange reservoir resources to avoid flood peak, so as to prepare for a new round of heavy rain in northwest Hunan on July 17.
Secretary Du learned about the construction of flood storage polders. He stressed that we must build flood storage areas according to local conditions, so as to safeguard people's interests and give full play to the role of the areas during the critical period for flood control. More detailed preparations should be made, including emergence response plans in flood detention areas, to fight the floods and protect people's lives and property.
This article is from Hunan Provincial Government www.enghunan.gov.cn. 
Translator: Xiao Juan
Chinese source: hunan.voc.com.cn