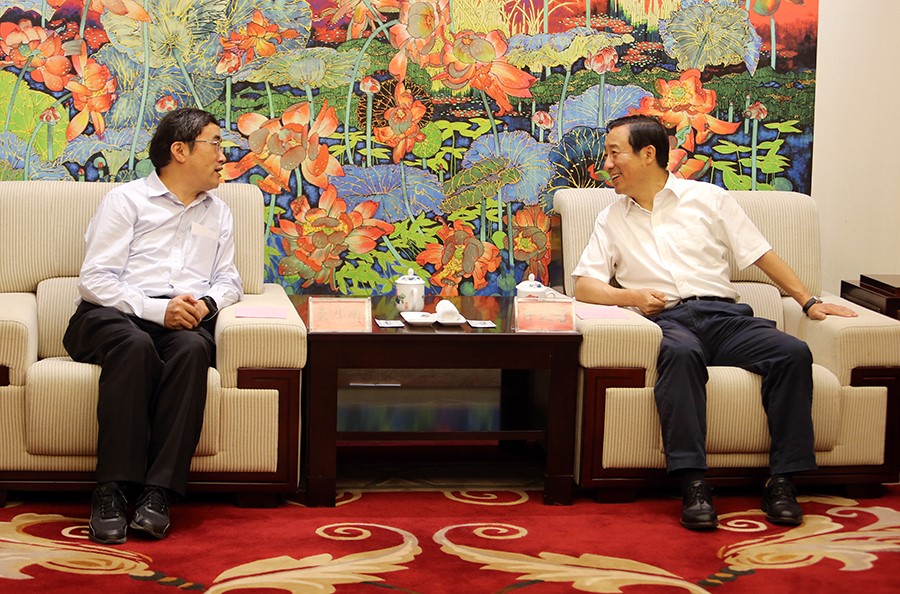 On July 14, Ling Yueming, Ministry of Natural Resources vice minister, led a State Flood Control and Drought Relief Headquarters Work Team to Yueyang to learn about the flood situation. They will also go to Changde, Yiyang, and Hunan's other places to inspect the flood prevention and relief work. In the morning, the team held a discussion with the Hunan government in Changsha, and Hunan Governor Xu Dazhe attended.
Vice Governor Chen Fei and Secretary General Wang Qun attended.
Governor Xu pointed out that Hunan has implemented the spirit of President Xi Jinping's important instructions on flood prevention and relief work; insisted on the principle of supremacy of the people and life; and, gone all out to fight against floods and carry out rescues, ensuring the safety of the people's lives and property to the greatest extent. The flood control situation is now still very serious and complex. We will, in accordance with the requirements of the State Flood Control and Drought Relief Headquarters and the Yangtze River Commission, strive to do well in early monitoring and warning, emergency response, and effectively carry out meteorological monitoring, early warning and pre-control, embankment inspection, and resettlement of disaster-affected people, to make every effort to perform our duties. He expected the team and the Ministry of Natural Resources will continue to provide guidance and support to help Hunan improve its comprehensive capacity for disaster prevention, mitigation and relief.
Vice Minister Ling remarked that the flood prevention and relief work made by the CPC Hunan Provincial Committee and the Hunan Provincial People's Government is powerful, orderly, and effective. He asked to establish disaster prevention awareness, do a good job in disaster prevention and risk avoidance, investigate hidden dangers, and make every effort to promote the comprehensive management of geological disaster sites, and win the overall victory in flood prevention and disaster relief. The tea, will perform its functions well and try its best to help Hunan win the battle against flood control and disaster relief, he added.
This article is from Hunan Provincial Government www.enghunan.gov.cn. 
Translator: Yu Jiangjiang
Chinese source: hunan.gov.cn