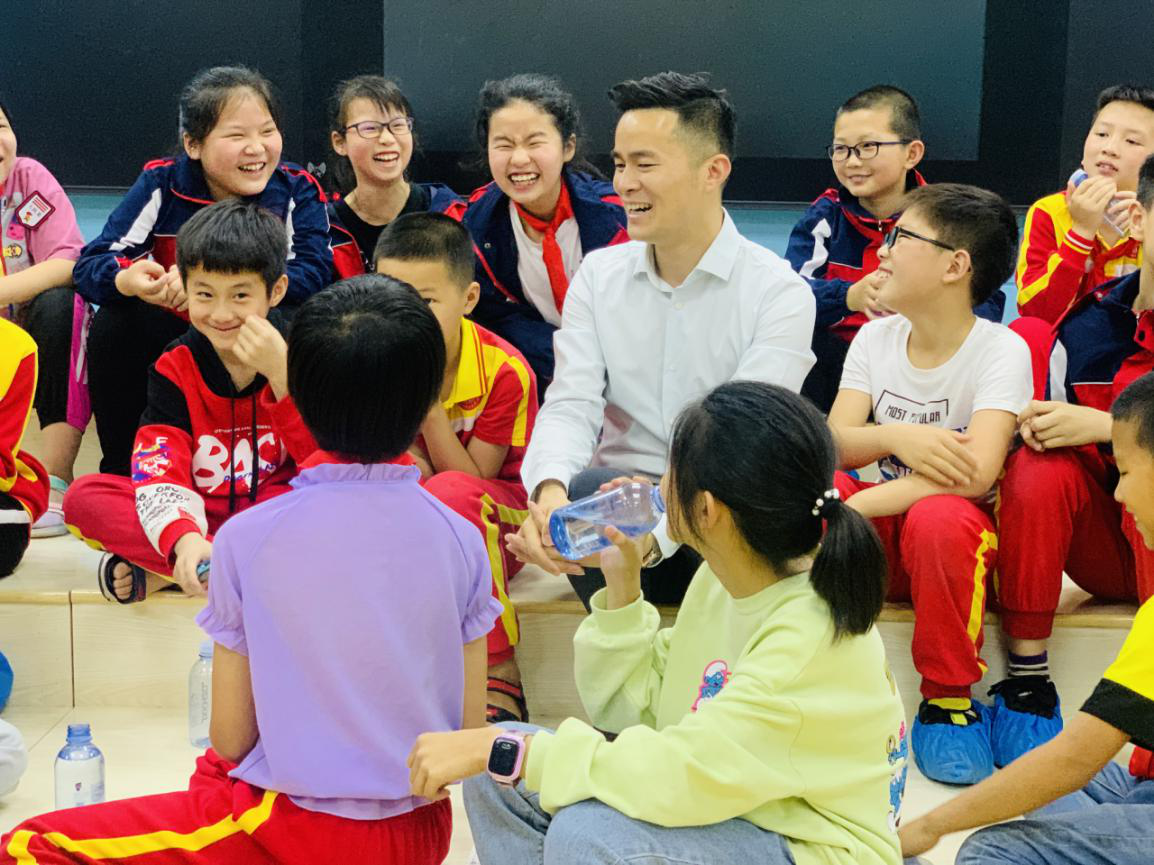 Chen Liangwei, a left-behind child himself, set up the Qihang School for others like him in his hometown, Qidong county, Hunan province. Chen enjoys being with the children at the school. [Photo by Hu Chunlei/for chinadaily.com.cn]
After becoming a successful businessman, Chen Liangwei, who was once a left-behind child, returned to his hometown of Qidong county, Hunan province, and established a boarding school to help others.
Born into a family of farmers, Chen was raised by his grandfather because his parents had to leave home to work in cities. As he grew, Chen also went to study and work in the city.
"But every time I came back to my hometown and saw the left-behind children crying over the separation with their parents, I felt very sad," he said. "These scenes remind me of my childhood."
In 2016, Chen, a successful entrepreneur, set up the Qihang School. It currently has 1,565 students, with 1,361 of them left-behind. Like Chen in his childhood, many of the students have introverted personalities and feel inferior to others.
"I remember that I didn't have any hobbies when I was young, and couldn't even tell the difference between a football and a basketball when I first entered college," Chen said. "These children are just like the younger me."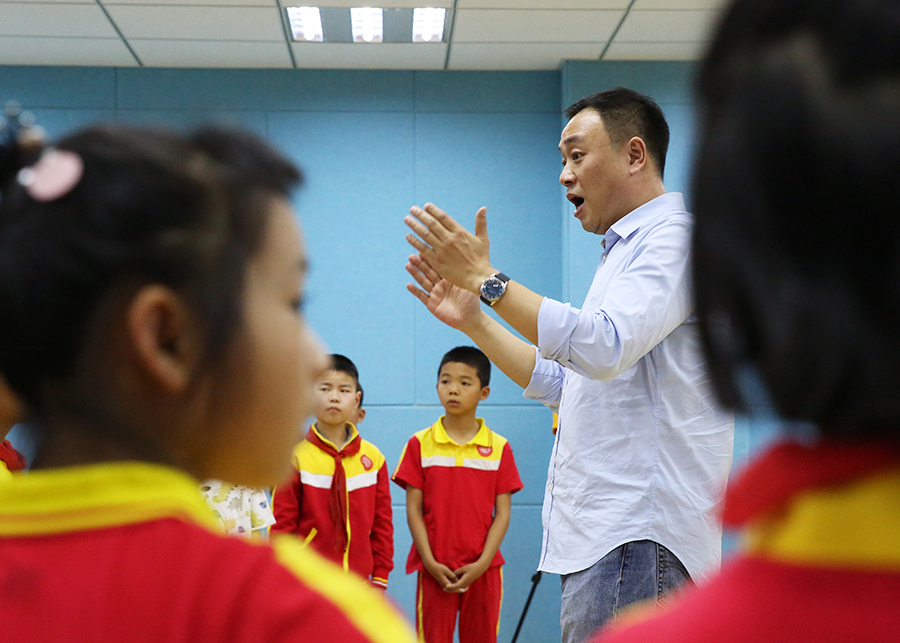 Wang Yulin, a music professor from Hunan University of Science and Technology in Xiangtan, Hunan province, volunteers to direct the chorus at Qihang School and teaches students in Qidong county, Hunan province. [Photo by Hu Chunlei/for chinadaily.com.cn]
To help lead the children onto a better path, Chen set up more than 20 interest groups at the school to cultivate children's talents in a wide range of areas: guitar, Ukulele, calligraphy, painting, dancing and English. He insisted that each child should develop at least one hobby each semester, which is conducive to forming a more outgoing personality.
In April 2017, a chorus was organized at the school. All its members were left-behind children from the third grade to sixth. Wang Yulin, a music professor at Hunan University of Science and Technology in the province's Xiangtan city, directs the chorus.
Three years ago, the left-behind children Wang got to know during a visit to the school deeply impressed him, and he has decided to stay on as a volunteer chorus director ever since. He teaches the children to sing every week as he makes a round trip of more than 400 kilometers between Xiangtan city and Qidong county.
The efforts of Chen and Wang are paying off. Children in the chorus enjoy singing and many are becoming much happier. What's more, the children will represent all their left-behind peers in Hunan to perform at the Meixihu International Culture and Arts Center in Changsha, the provincial capital, in October. They will then head to Beijing for another performance at the National Theater for the Performing Arts.
"We never expected that the children would come this far when we set up the chorus," Chen said, adding that he's very proud of the students.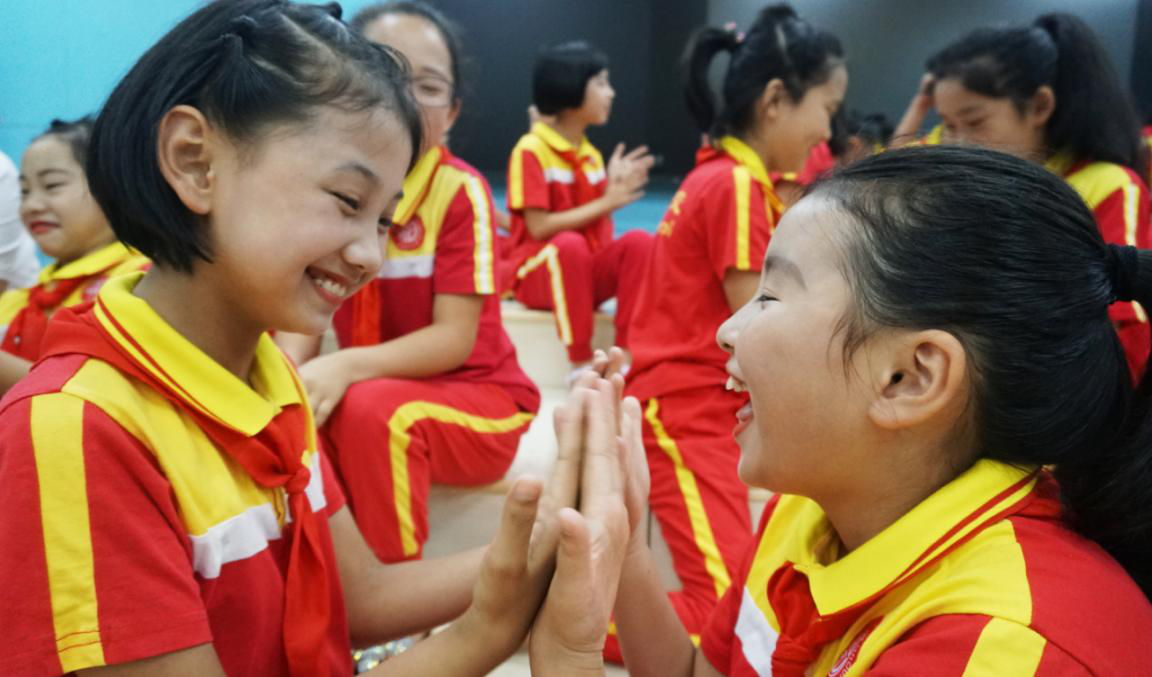 Singing while playing games together, children at Qihang School's chorus have become much happier than before. [Photo by Hu Chunlei/for chinadaily.com.cn]