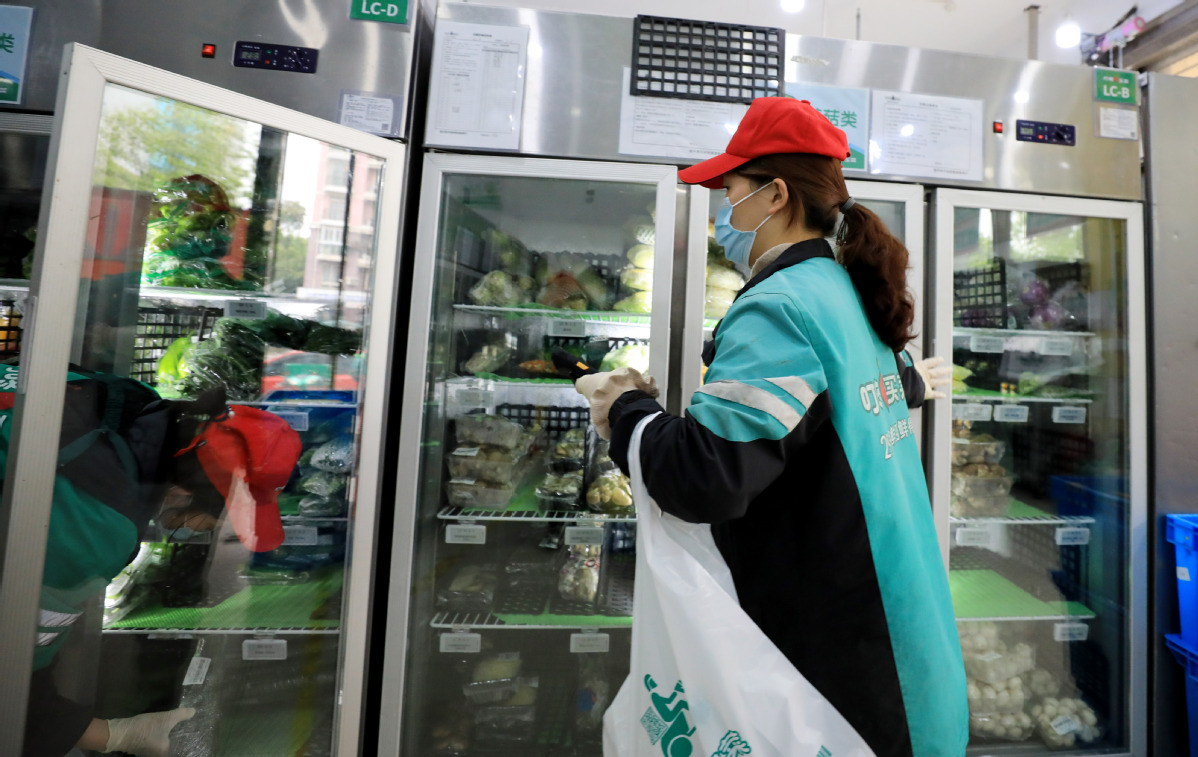 Dingdong Maicai employees arrange fresh products at a warehouse in Shanghai in April. [Photo/Xinhua]
Retail is hurting, but e-sales of groceries, fruit, vegetables boom; new jobs emerge
Since the COVID-19 outbreak in late January, Li Xuejia, 35, a financial magazine editor in Beijing, has seldom visited her neighborhood supermarkets for fresh food. Like everything else in China these days, fresh food can now be bought online. And mobile apps specializing in this niche are laughing all the way to the bank.
Li probably knows why. "I avoid going out (to maintain social distancing) and prefer to buy fresh vegetables, fruit, milk, meat and rice on online fresh food platforms such as JD Daojia and Miss Fresh. I choose their quick delivery service," said Li, referring to apps' one-hour drop-off feature.
Like Li, hundreds of millions of Chinese consumers would vouch for the efficiency and reliability of the emerging online services sector. Their demand for fresh food deliveries surged in recent months in the wake of the pandemic.
In the first half of this year, Dada Group, China's leading local on-demand delivery and retail platform, recorded an increase in demand for its services as more people shopped online for daily necessities, including groceries, fresh produce, healthcare and household products.
The company has played a critical role in providing essential products nationwide through partnerships with nearly 40 retail brands such as Walmart, Yonghui, Better Life, Aeon, Lotus, 7Fresh, Century Mart, and 16 community-based fresh produce retail chains since early February.
It also rolled out a contactless delivery service, or drop-offs of takeaway food parcels or other packages at a designated pick-up spot at residential communities or office premises.
Executives of JD Daojia, the local on-demand retail platform of Dada, said overall sales revenue surged a staggering 470 percent year-on-year during the Lunar New Year holiday in late January and early February, with the consumption of vegetables jumping 510 percent year-on-year, fruit increasing 300 percent, eggs 770 percent and dairy products 370 percent.
"Our services continue to play a vital role in the Chinese economy and in the nation's response to the pandemic. We will continue to use our technological and innovation capabilities to enhance our efficiency and deliver high-quality services to people across the country," said Philip Kuai, founder, chairman and chief executive officer of Dada Group.
JD Daojia has also expanded its service to nearly 20 lower-tier cities this year, such as Shaoxing in Zhejiang province, Luoyang in Henan province and Lijiang in Yunnan province. More consumers in third-and fourth-tier cities can enjoy the convenience of one-hour delivery provided by local on-demand retail services.
In addition, Dada announced it plans to recruit 17,000 deliverymen and pickers. Among them, the first round of recruitment of 10,000 deliverymen will cover more than 2,400 cities and counties across the country.
And JD Daojia will assist retail partners, such as Walmart, Yonghui, Better Life and other supermarket chains, to recruit more than 7,000 pickers, packers and other store staff in more than 30 cities nationwide.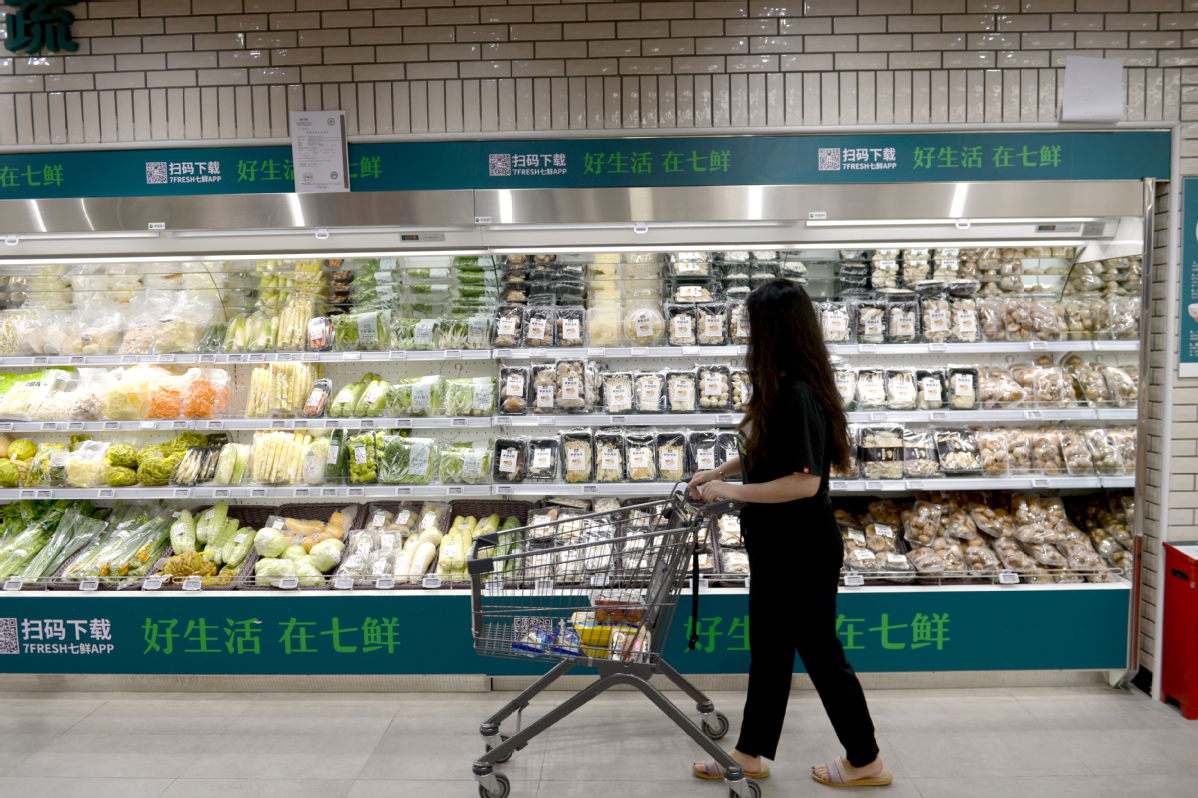 A consumer browses vegetables at a 7Fresh store in Chengdu, Sichuan province, in May. [Photo byGao Han/For China Daily]
The size of the fresh food e-commerce market in China soared significantly from 90.3 billion yuan ($12.8 billion) in 2017 to 162 billion yuan in 2019, a recent report from market consultancy iiMedia Research said.
The report also forecast the total size of the domestic fresh food e-commerce market will reach 263.8 billion yuan this year, up almost 63 percent year-on-year, spurred by rising COVID-19-related demand.
Data from consultancy Analysys Qianfan showed that transactions on Miss Fresh, an e-commerce platform focusing on fresh food and other grocery products, surged by 350 percent year-on-year during the Spring Festival holiday. Home delivery orders on Wumart's Dmall digital platform rose by 95.3 percent on a yearly basis, with sales volume up by 225.7 percent year-on-year.
"In the past, some young users only bought fresh fruit at our platform. But now they are buying everything online, from meat, vegetables to rice, flour, cooking oil and other items," said Wang Jun, partner and CFO of Miss Fresh.
Wang said COVID-19 has accelerated the penetration rate of e-commerce grocery, lifted the per-customer transactions as well as attracted new groups of consumers, such as elderly people, who used to buy daily necessities at offline supermarkets.
During the epidemic, the company has taken urgent measures to increase the supply of fresh vegetables from its bases in the Inner Mongolia autonomous region, Yunnan and Shandong provinces, with the daily supply volume rising from 500 tons to 2,000 tons.
Front-end warehouses, which are located close to shoppers' communities and neighborhoods, are vital in determining competitiveness of online fresh food platforms. With its 1,500 front-end warehouses in 16 cities across the nation, Miss Fresh is capable of delivering its orders in half-hour flat.
Xu Zheng, founder and CEO of Miss Fresh, said the online fresh products market will witness rapid growth in the next five years. The company will accelerate its efforts to expand offerings and strengthen the supply chain construction, he said.
After new clusters of COVID-19 infection cases were reported in Beijing in mid-June, Miss Fresh has increased its supply of fruit, vegetables, meat and eggs by four to five times, ensuring almost all of these products came directly from producers and factories.
According to a report by market research company Euromonitor, the COVID-19 outbreak has given a big boost to the fresh food e-commerce sector.
The report said fresh food is a category with steady demand and a high consumption frequency. The segment is expected to witness accelerated online sales growth in 2020. Online sales of fresh food accounted for 6.3 percent of retail value in 2019, and this share is expected to increase in 2020, due to the quarantine policies and people's reluctance to go to crowded areas such as supermarkets or hypermarkets.
In addition, online catering platform Ele.me has cooperated with about 60,000 fresh food stores and supermarkets in 38 major cities across the nation, such as Beijing, Shanghai, Hangzhou and Wuhan to offer contactless delivery services, with the products ranging from vegetables, fruit, meat, poultry to seafood.
It has also increased the supply of high-quality fresh food coming directly from producers. Data from Ele.me showed the orders of fresh vegetables rose by nine times during the Spring Festival holiday in Beijing, compared with the same period last year.
Raymond Wang, partner at global consultancy Roland Berger, said: "The outbreak has further proved the importance of the internet and digital economy. For example, the e-commerce and online-to-offline, or O2O, business model has met people's daily requirements, while the traditional retail industry has taken a big hit."
He said that in the medium-and long-term, the outbreak would enhance social efficiency and result in a higher access rate for the burgeoning digital economy. "This is also a big opportunity for China's technology and business model innovation, the foundations of the digital economy."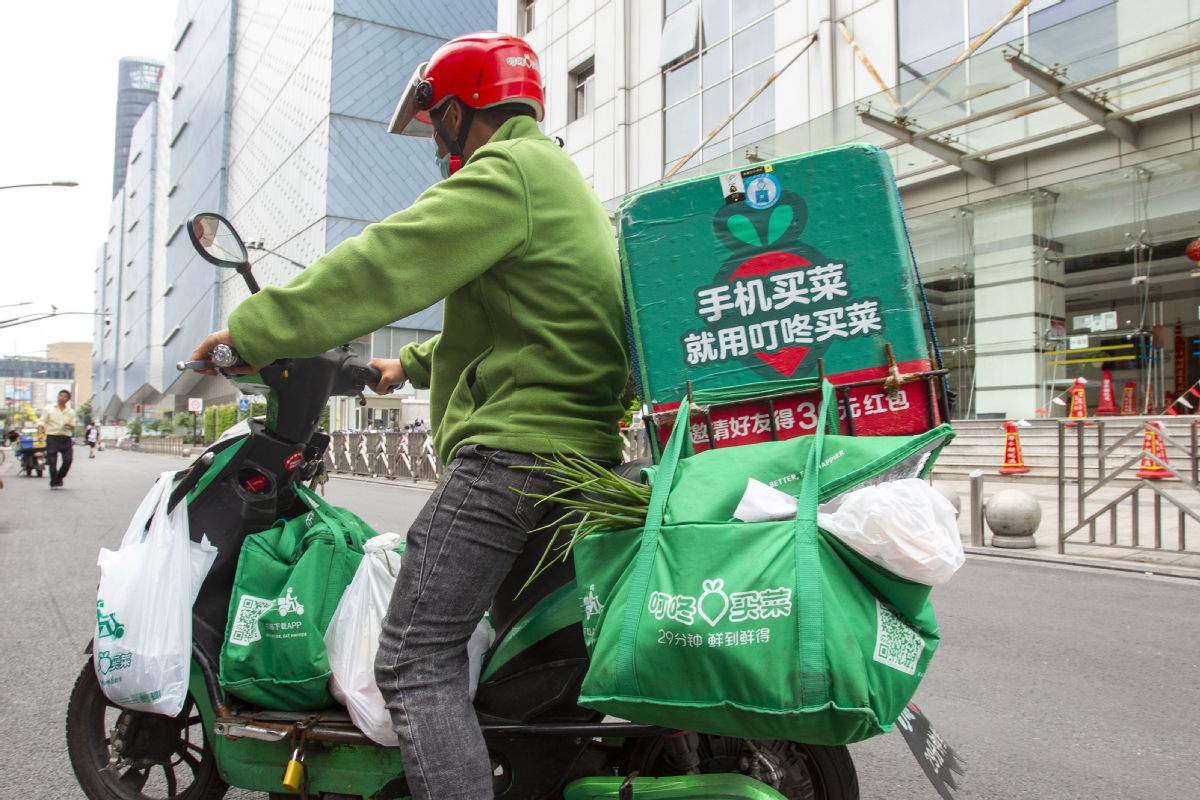 A Dingdong Maicai employee delivers vegetables ordered online in Shanghai in May. [Photo provided to China Daily]
Dingdong Maicai, another fresh produce e-commerce platform, is also ramping up efforts to expand its presence across the nation this year. In February, the daily orders of the platform surpassed 600,000, with the revenue reaching more than 1.2 billion yuan.
The Shanghai-based startup said the total number of front-end warehouses will grow from more than 600 to 1,100 nationwide this year, and about 30,000 new jobs will be created. Its front-end warehouses now cover Shanghai, Hangzhou, Ningbo and Beijing.
At present, the monthly order growth rate has surpassed 200 percent in Beijing, and the company also plans to open more than 200 front-end warehouses in the city this year.
Zhao Yue, a senior analyst at Beijing-based market consultancy Analysys, said the monthly active users of fresh-food e-commerce platforms may have declined as the contagion came under increasing control in China. These platforms are banking on providing coupons and discounts, as well as launching promotional events and membership drives to enhance the loyalty and stickiness of users.
"A batch of fresh produce e-commerce companies will coexist in the industry in the future. However, it still needs time for such enterprises to achieve profitability, and the key lies in how to use data to improve operational efficiency and reduce costs. To refine their operations, enterprises should further explore aspects like marketing, scenarios and supply chain."