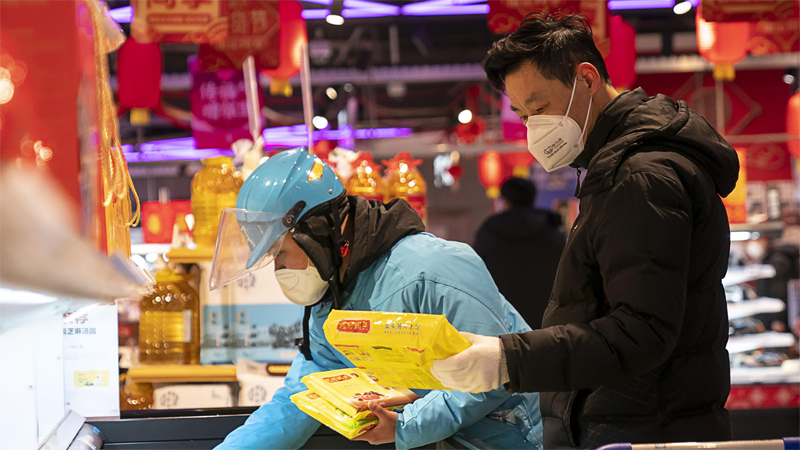 A deliveryman collects frozen food in a Hema Fresh store in Wuhan, capital of central China's Hubei Province, Jan 27, 2020. [Photo/Xinhua]
Sales of fresh food via mobile apps are rising as consumers in China are spending more time indoors to avoid infections relating to the COVID-19 pandemic.
Like most other consumers in China, I used to visit neighborhood supermarkets over weekends in the past. But, since the outbreak, I've been trawling online fresh-food marketplaces.
My favorites are Miss Fresh, JD Daojia and Dingdong Maicai where I buy vegetables, fruit, seafood, meat, cooking oil, rice, eggs, seasonings and other groceries. Typically, the stuff I order online in Beijing materializes within an hour.
Imagine just tapping on your smartphone a few times in the comfort of your living room, or from the office desk, and have organic tomatoes, Lingnan lychees and Qianjiang crawfish delivered home in a jiffy. In the last few months, I've mastered the art of ordering just before heading home from office. Presto, the fresh food in mint condition arrives even before I reach home.
Data from Quest Mobile that tracks the mobile internet space showed the daily active users of Hema Fresh, a fresh food chain backed by Alibaba Group Holding Ltd, increased by more than 127 percent over the Lunar New Year holiday (Jan 24 to Feb 2), compared with the same period last year.
JD Fresh, the fresh food arm of JD, sold 88,000 metric tons of fresh produce from Jan 20 to Feb 18, surging 230 percent year-on-year.
In addition, the epidemic has persuaded new groups of consumers, such as elderly people, to convert to e-commerce. They now figure among fresh food apps' target user groups.
Especially after Beijing reported new clusters of COVID-19 cases originating at the Xinfadi vegetable and meat market in June, more and more middle-aged and senior people are switching to fresh food apps. In the past, they preferred to buy vegetables at so-called farmers' markets in their neighborhood.
In response, JD Daojia, the local on-demand retail platform of Dada Group, has partnered with Walmart, Yonghui, CR Vanguard, Sam's Club, Olé, 7Fresh and other supermarket chains to establish the "Daojia Secured Sourcing Alliance". This feature ensures a sufficient supply of goods at stable prices and guarantees secure delivery services in Beijing.
Sales via the app in the city from June 12 to 18 increased 85 percent compared with the same period last year, according to JD Daojia.
Fresh produce e-commerce platform Dingdong Maicai has also increased the supply of vegetables and seafood from Hebei, Shandong and Jiangsu provinces to ensure Beijing's daily needs are met. It said its deliverymen have undergone nucleic acid tests to pre-empt spreading the virus unwittingly.
The penetration rate of fresh produce e-commerce is lower than that of clothing and home appliances, so there is still huge room for growth, said Mo Daiqing, a senior analyst at the Internet Economy Institute, a domestic consultancy, adding the COVID-19 outbreak bolstered demand for fresh food.
Mo noted online fresh food platforms should ramp up efforts in improving the commodities and strengthening the supply chain, including distribution and delivery services, in order to improve their operational efficiency. Such an approach will help attract new users and retain customers existing.