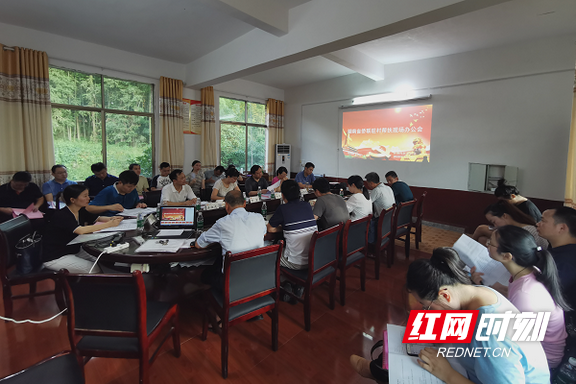 On-site office meeting in Chitan Village.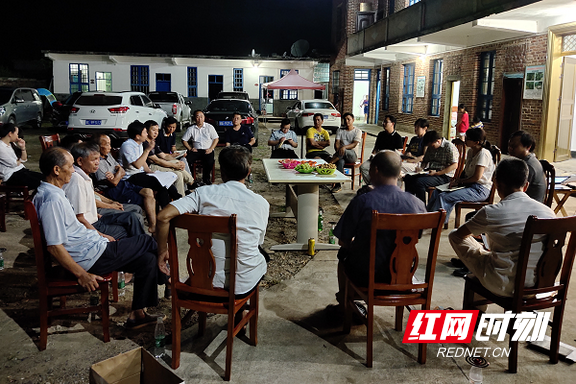 A symposium in the village hall.
During July 13th and 15th, all cadres of Hunan FOC went to Chitan village, Anren county, which is the poverty relief point of Hunan FOC, to carry out anti-poverty activities.
On the evening of 13th, Huang Fang, secretary of Hunan FOC Party Group, chaired a fieldtrip meeting in Chitan Village, and heard the relevant introduction of the village from villagers. They discussed how to further improve poverty alleviation work in Chitan Village. After the meeting, training was given on poverty alleviation.
During the stay in Chitan village, the cadres of the provincial FOC visited their families. When Huang Fang went to Xiao Shangsheng's home, she learned that Xiao's wife had been admitted to hospital, and Xiao had no one to take care of him. The poverty alleviation team and the village cadres had been taking turns to send him food and take care of his life, which Huang Fang highly affirmed. Huang Fang and her team also visited the construction sites of industrial projects, village primary schools, Little Guilin scenic spot, tap water, bridges and highways in the village to check the progress and achievements. She asked the poverty alleviation team and the village committee to continue to strengthen infrastructure construction, improve the production and living conditions of villagers and promote the development of the tourism industry, so as to leave a team that will never leave Chitan village.
When visiting Zhang Xingqi's family, Sun Minsheng, vice chairman and member of the Party committee of Hunan FOC, asked the working team to help them as much as possible within the limits allowed by the policy, so that the two deaf and mute can enjoy the due policy of support and let them feel the warmth of the Party and the society. When Li Zuyuan, a member of Hunan FOC and vice chairman, visited Lai's home, he learned that his family would not move. He sat down to talk with Lai and listened to him patiently, preaching policy to him earnestly.
On the evening of 14th, the FOC, village officials, village representatives and tourism companies held a symposium on village hall. The village representatives expressed their gratitude for the great changes that had taken place in the village in recent years, spoke highly of the task force and made suggestions on the future development of Chitan Village. Huang Fang asked the alleviation poverty team and the village committee to timely comb the opinions and suggestions put forward by the villagers, and implement the reply.