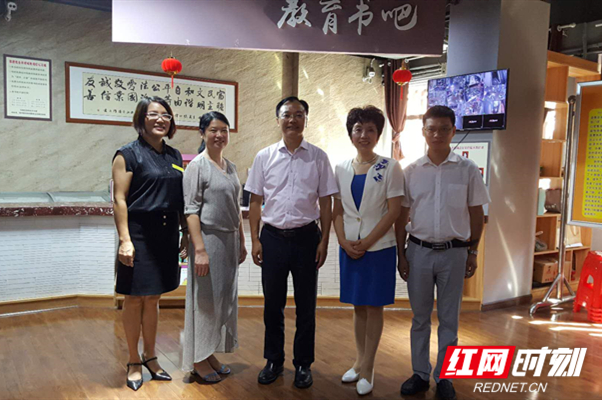 Li Zuyuan in Reading Bar in Yongxing County.
On July 22-23, Li Zuyuan, the party member and vice chairman of Hunan FOC, went to Yongxing county and Linwu County of Chenzhou to investigate the construction of grassroots FOCs and cultural base for overseas Chinese.
In Yongxing County, Li Zuyuan attended Chenzhou home of Overseas Chinese construction on-site meeting and the launching ceremony of the reading activity of "Reading the Hearts and Dreams of Overseas Chinese accompanied by books", and communicated with the responsible comrades of the municipal and county Overseas Chinese federation on the grassroots organization of overseas Chinese and the construction work of "home of Overseas Chinese". In Yongxing, Li Zuyuan pointed out that, grass-roots organizations and the county federation should make full use of their own advantages to integrate platform, establish the local characteristic of "the home of overseas Chinese", set up base nation people exchanges and maintain the overseas Chinese in accordance with the benefit of the platform.
In Linwu county, in ShuntongBao jade culture development co., LTD., which was applying "overseas Chinese cultural exchange base", Li Zuyuan learned details about the company's operating status, fully affirmed the "journey of roots" summer camp "love China" and "jade culture" in the Chinese and foreign cultural exchanges, has played a very good effect in promoting Hunan culture and enhancing international influence Hunan culture. He pointed out that we should improve our position, earnestly study and understand the spirit of relevant documents concerning the work of the CPC Central Committee and provincial Party Committee, and form our own characteristics and highlights; We should combine social public services, pool resources and social resources of the overseas Chinese community, and expand the influence of the overseas Chinese community. It was necessary to give full play to the advantages of Linwu's traditional culture and actively build a platform for academic and economic and cultural exchanges among overseas Chinese.
During his stay in Chenzhou, Li Zuyuan and his team also investigated the "concord project" of Linwu Aicao Garden.