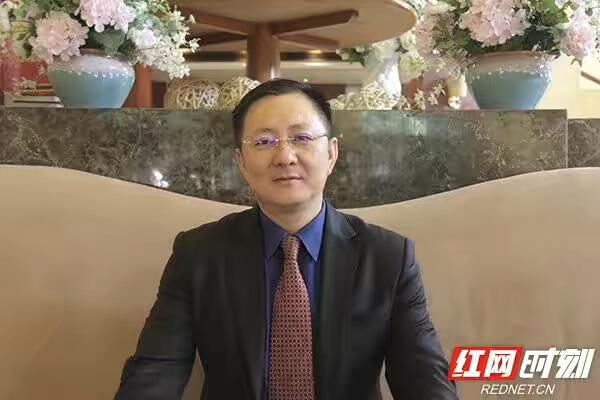 Ye Jingtao, executive Vice President of China Overseas Chinese Business Association, Vice chairman of Hunan Overseas Chinese Federation and chairman of Macau Juntian Group
In West Hunan, there is such a simple but responsible entrepreneur who actively participates in social welfare and charity. His name is very familiar and unforgettable to the children of West Hunan. He is Ye Jingtao, executive vice President of China Overseas Chinese Business Association, Vice chairman of Hunan Overseas Chinese Federation and chairman of Macau Juntian Group.
Although Ye Jingtao grew up in Jiangxi province, he was born in Xinhua County, Hunan Province. When he was a young man, he followed his grandfather back to his hometown in Hunan for the first time, listening to the local accent and looking at the tears shed by his grandfather when he worshipped his ancestors, Ye Jingtao suddenly realized that his hometown had always been in the heart of his grandfather, father and himself.
"We are from Hunan. Wherever we go, our roots are here." Ye Jingtao has never forgotten his grandfather's instructions, and he always takes pride in being a Hunan. over the years, he has been making contributions to the development of Hunan with his expertise.
Western Hunan is one of the most remote and backward areas in Hunan. Ye Jingtao focuses more eyes and energy on this strange and mysterious land.
Because of the traffic inconvenience, the mountainous area education in West Hunan is in urgent need of improvement and development. Poverty alleviation requires education first, leaving more teachers for rural children, which has become Ye Jingtao's first choice of poverty alleviation project and solemn commitment.
In 2017, during a research trip to Western Hunan, he came across a story about a young female teacher who stuck to a rural school for more than 10 years and taught students. At the same time, I also learned that some teachers had to leave because of the poor living environment in the countryside. He listened to mixed feelings, "If the treatment of rural teachers can be a little better, may think that children leave more teachers, must not let poverty appear intergenerational transmission.
Later, Ye jingtao donated 10 million yuan to the Xiangxi Autonomous Prefecture government to set up an educational poverty alleviation fund, which will be used to continuously support rural teachers and poor students. Every year, 50 ordinary rural teachers whose school is more than 15 kilometers away from the county will be awarded with the "Heavenly Candlelight Award", so that they can settle down in remote mountainous areas.
Several years of educational activities, let Ye Jingtao's original wish finally got the response, the mountain's children in his help out of the mountain. He has also received many letters from poor students and rural teachers in Western Hunan, saying that they will be more firmly rooted in the countryside. Ye Jingtao hopes that children in poor mountainous areas can rely on wisdom and learning to get out of poverty and return to society as soon as possible.
"In order to help poor areas achieve stable poverty alleviation and long and rich development, we are willing to establish high-quality agricultural production bases in some poor areas," ye jingtao, a member of the Provincial COMMITTEE of the Chinese People's Political Consultative Conference (CPPCC), said when participating in the "Three Progress and Three Assistance" hunan series of activities organized by the Hong Kong and Macao Committee of the CPPCC Of Hunan Province. To help open the channels for the supply of fruits and vegetables from Western Hunan to Hong Kong and Macao.
In 2013, Ye Jingtao set up a company in Zhuhai, specializing in ecological agriculture. "Almost all the agricultural products from Hong Kong and Macao are supplied by the mainland and have high requirements on the quality of agricultural products, while Hunan, which is geographically close, has good mountains and good water and high-quality agricultural products. Why not build a farm product base in Hunan for Hong Kong and Macao?" Ye pondered how to open up access to high-quality hunan produce for Hong Kong and Macao.
During the 2017 "Hong Kong Qizhou", Ye Jingtao was invited by Xiangxi Autonomous Prefecture to participate in the Chamber of Commerce. After that, Ye led a team to Xiangxi for investigation, preparing to invest 8 billion yuan to build a modern agricultural complex, covering the production, planting, processing, packaging, cold chain logistics, science popularization, elderly care, tourism and other projects.
In order to build a record base of vegetables and fruits for Hong Kong and Macao, and provide agricultural products directly for Hong Kong and Macao that meet the requirements, Ye Jingtao made several visits to western Hunan for site selection, and communicated with farmers on how to grow high-quality vegetables in the fields.
Meanwhile, Ye Jingtao also signed framework agreements with Huayuan County and other cities and counties to build several vegetable and fruit recording bases for Hong Kong and Macao, providing direct agricultural products for Hong Kong and Macao that meet the requirements. At present, we are dealing with the import of some single products into Macao. Ye Jingtao told reporters, "Longshan's radish, Huayuan's beans, kiwi fruit, these green organic food hidden in the mountains of Western Hunan, soon appeared on the table of Macao citizens."
Under his promotion, 18 cave village kiwi fruit and other high-quality vegetables, fruits fromXiangxi sold to Guangdong, Hong Kong and Macao Greater Bay Area. After fruits and vegetables were launched in Hong Kong and Macao, many enterprises rushed to west Hunan to purchase high-quality agricultural products, "get rid of poverty quickly, grow vegetables." Word of mouth spread among the local people.
Ye Jingtao with real action, in the west hunan education development, industrial revitalization and other aspects of the interpretation of great love. Now in Xiangxi, education has caught up with the development of industry, and the "three noes" has been transformed into a demonstration point of "rural revitalization".
Ye Jingtao said, "It is every wanderer's dream to build his hometown well." This may be the most true portrayal in the heart of every overseas Chinese.