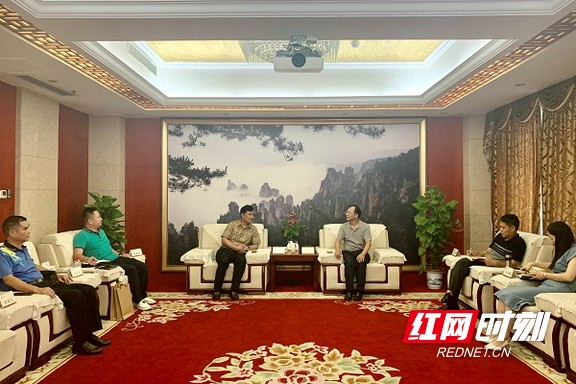 Li Zuyuan (third from the right), member of the Leading Party group and vice chairman of Hunan FOC, met with the delegation of The Combodiam Hunan General Chamber of Commerce
On August 31, The Cambodian Hunan General Chamber of Commerce visited tHunan FOC. Li Zuyuan, member of the Party group and vice chairman of Hunan FOC, met and held a discussion.
Li extended a warm welcome to the delegation of the Cambodian Hunan General Chamber of Commerce, and thanked the chamber for responding to the initiative of the FOC in the early days of the outbreak in China, actively donating epidemic prevention materials and contributing to the strength of the overseas Chinese community. He pointed out that as the "mother family" of overseas Chinese at home and abroad, we welcome all of you to "go home" and have a look. If you have any difficulties, you should inform the overseas Chinese federation in time. The Federation will try its best to help the masses of overseas Chinese to solve problems and difficulties, and do a good job in serving overseas Chinese. As for the further development of the chamber, Li hopes that the Hunan Chamber of Commerce will strengthen the contact with the local government, coordinate the relationship with other local overseas Chinese associations, and establish a good image of overseas Chinese. At the same time, I hope that the Chamber of Commerce will unite local Chinese and overseas Chinese, serve local public welfare undertakings, promote friendly exchanges between Hunan and Cambodia in combination with the development of the Chamber of Commerce, tell the story of China's fight against the epidemic, spread the voice of China, promote the culture of Hunan and tell the story of Hunan well.
Li Xinhua, executive vice President of the Hunan General Chamber of Commerce in Cambodia, thanked the FOC for its support during the epidemic, and introduced the current development of the chamber of Commerce and related activities in recent years. The Chamber of Commerce hopes that Hunan FOC will continue to support the work of the Chamber, keep closer communication and exchanges between the two sides and play an active role in promoting the development of exchanges between the two places.
Cambodia Hunan General chamber of commerce (formerly known as "Cambodia hunan chamber of commerce") was founded in 2012, currently more than 140 members, covering real estate development, agricultural products processing, garment dyeing and printing, advertising media, mechanical and electrical installation, such as dozens of industries, become the model of Cambodia industries, to promote bilateral economic and cultural exchange and the Cambodian people friendship has made a positive contribution.