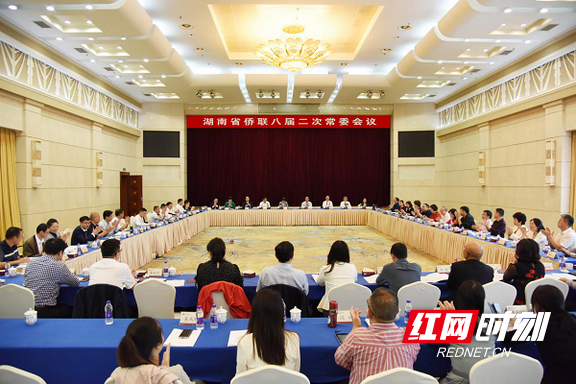 The 8th standing Committee meeting of Hunan FOC was held in Changsha.
On September 18, the 8th standing Committee meeting of Hunan FOC was held in Changsha. Huang Fang, secretary of the Party Group of Hunan FOC, attended the meeting and made a speech. Zhu Daohong, chairman of Hunan FOC, summarized the work of the Federation this year and made plans for the tasks in the next stage.
Overseas organizations at all levels were required to strengthen their own construction, insist on socialism with Chinese characteristics in Xi inping new era as a guide, in-depth study and implement xi jinping, general secretary of overseas Chinese affairs, under the work, the importance of party construction, to strengthen the ideological and political lead as the main principal owner, adhere to the pattern of the united front work, highlight the political lead in service for overseas Chinese, to build consensus throughout. At the same time, in light of the situation and requirements of epidemic prevention and control, overseas Chinese federations at all levels should take the initiative to ensure both epidemic prevention and control and operational work.J
The meeting also conveyed the spirit of the fifth Standing Committee meeting of the 10th China Federation of Overseas Chinese. Sun Minsheng, Li Zuyuan, the party members and vice chairmen of Hunan FOC, as well as the heads of all branches of the Federation, had discussions and exchanges with relevant staff of the Federation on the next stage of activities, grass-roots organization construction, work arrangement and other aspects.
Huang Fang pointed out that the overseas organizations at all levels were ought to improve political stance, strengthen the ideological work, give full play to the nation and national governance system, guide the participation of the returned overseas Chinese and overseas Chinese in the economic and social life of Hunan, and further enhance represent nation "root" "soul" "dream" common ideological basis. Hunan FOC would continue to work hard to prevent imported cases from overseas, closely follow the changes in the situation of overseas Chinese, and continue to do a good job in stabilizing, warming people's hearts and building confidence in accordance with the general requirements of "stabilizing the local situation and stabilizing people's hearts". FOCs at all levels would strengthen politics theoretical study, get to be adapted to the new requirements of the situation and tasks, improve the professional ability of federation cadres, widely with economy, politics, united front, diplomatic and other fields of knowledge, and further condensed my best, and overseas Chinese, by the rise of "open innovation lead," the implementation of the strategy, to build happiness new beautiful and richly endowed hunan make greater contributions.
huang Qining, Liu Hui, Zhang Xin, Ye Jingtao and Mao Binghua, part-time vice-chairmen attended the meeting.