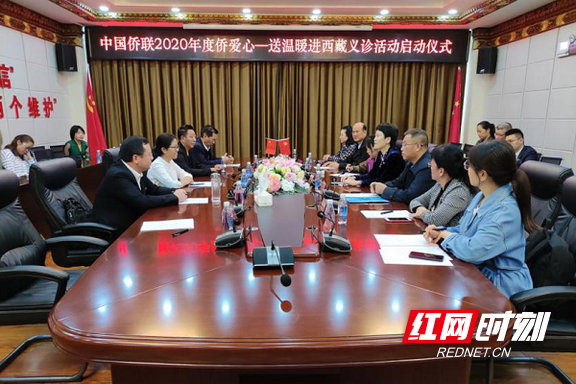 The launching ceremony of the free clinic donation.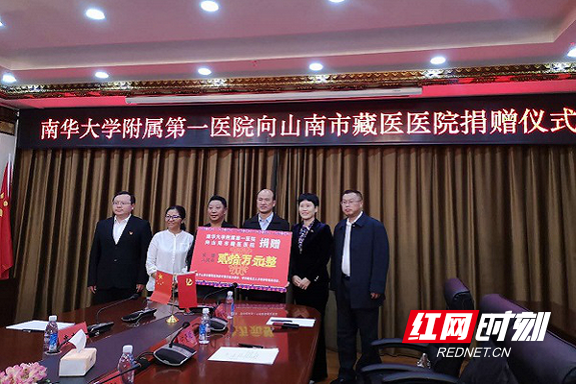 Jiang Zhisheng, vice President of The University of South China (third from right) introduced the university of South China and the medical team, and donated RMB 200,000 to Shannan Tibetan Medical Hospital.
Sponsored by China FOC and undertaken by Hunan FOC and FOC of University of South China, the launching ceremony of "Overseas Chinese Love Medical Team" for free medical clinic in Shannan of Tibet was held.
Entrusted by Huang Fang, secretary of party Group of Hunan FOC, Liu Hui, vice chairman (and co-chairman) of Hunan FOC, on behalf of the Federation, announced the launch of the team. She pointed out that "Overseas Chinese love medical team" was one of a series of love activities organized by the Federation, aiming at giving full play to its advantages of being a pool of talents, intensive intelligence and extensive contacts, and pooling the strength of the overseas Chinese community to serve economic and social development and improve the local welfare. This trip to Shannan was to implement the decision and deployment of the Central Committee Hunan, fulfill the responsibility of the federation, and contribute by the overseas Chinese community in Hunan.
Chilieyangjin, vice President of CPPCC Shannan, said the team conquering plateau response may effectively solve the lags in medical and health technology in Shannan.
Jiang Zhisheng, vice President of The University of South China, Tashi Tsering, vice secretary of the Party Committee of Shannan Tibetan Medical Hospital, Tang Jianqi and Yuan Youhong, leaders and experts of the medical team attended the launching ceremony.