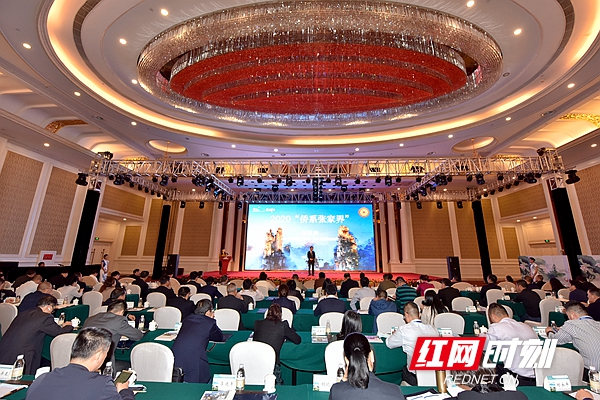 2020 overseas Chinese-Zhangjiajie attracted investment and wisdom was successfully held.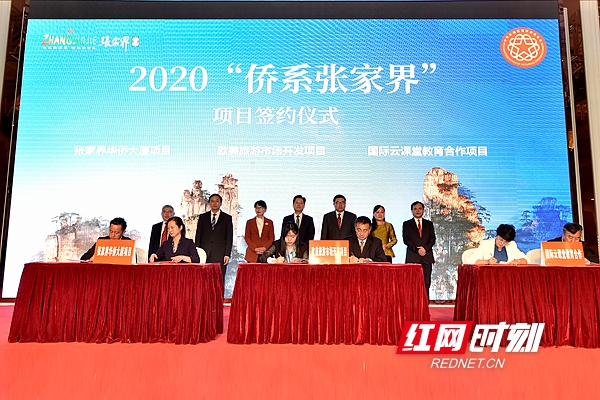 Signing agreement.
On September 27, the 2020 "Overseas Chinese-Zhangjiajie" investment and wisdom activity was successfully held in Zhangjiajie, Hunan. Guo Zhenggui, Secretary of The CPC Zhangjiajie Municipal Committee and director of the Standing Committee of the Municipal People's Congress, Huang Fang, Secretary of Hunan FOC, Xia Fudong, deputy minister of the Economic Department and first-level inspector of the China FOC attended the meeting and made speeches.
Guo ZhengGui said, Zhangjiajie was in the midst of a new period full of strategic opportunities. Its development would be priority, based on its own advantages, to promote on local culture, tourism, environmental protection, and further deepen the cooperation and communication with FOCs of all levels, and optimize the business environment to promote the opening to the outside world cooperation to a new level. It was hoped that FOCs of all levels, Overseas Chinese Business associations, overseas Chinese enterprises, returned overseas Chinese and their families would pay more attention to and support Zhangjiajie. It was warmly welcomed to invest in Zhangjiajie and live and work in peace and happiness.
Huang fang pointed out that "overseas Chinese-Zhangjiajie" was one of the measures to serve overseas Chinese enterprises and local economy. It was hoped that all entrepreneurs could give full play to their advantages and resources in capital, technology, management, market and network, so as to add new driving forces to the economic and social development of Hunan and make a good connection and cohesion between the resources of overseas Chinese community of Hunan and the tourism development of Zhangjiajie. All relevant departments of Zhangjiajie should continue to adhere to the purpose of serving overseas Chinese, promote the introduction of preferential policies for "overseas Chinese commerce", create a more suitable development environment for business, industry, living and learning, and enable more overseas Chinese enterprises to settle in Zhangjiajie, so as to achieve win-win cooperation.
Xia Fudong, on behalf of China Federation of Overseas Chinese, Special Expert Committee of China Federation of Overseas Chinese and China Business Association of Overseas Chinese, expressed congratulations to the event. It was also hoped that overseas Chinese enterprises could take advantages to attract talents and wisdom, find the joint point of common development between their own undertakings and Zhangjiajie, and realize common development. All overseas Chinese should make full use of their own advantages and conditions to promote Zhangjiajie and tell its story well. Overseas Chinese associations at all levels should play their role as a bridge and bond, further build the economic brand of "Hunan for Pioneering China and Developing Industry", promote the economic development of Hunan and serve overseas Chinese well.
At the event, four distinguished experts including He Zeyi, Liao Dianfang, Wang Yongxing and Wang Yigao and representatives of overseas Chinese entrepreneurs made suggestions for the economic and social development of Zhangjiajie in their respective fields, which contributed to the high-quality economic development of Zhangjiajie city. Zhangjiajie tourism sports bureau of radio, film and television and British Hunan commerce association signed strategic cooperation framework agreement. Jishou University Zhangjiajie college sighed a cooperation agreement on e-learning with Hunan intelligence chain technology. Zhangjiajie business bureau signed with Zhangjiajie tourism industry development co., LTD. onSouth European tourism market development project cooperation framework agreement.
During the event, Gao Fei, vice President and professor of China Foreign Affairs University, gave a special lecture on the international situation to help overseas Chinese people better understand and grasp the current international situation.
Sun Minsheng, vice President of Hunan FOC, Tian Huayu, standing committee of the municipal party committee, secretary of municipal party committee united front work department of hangjiajie, Wang Guangming, chief of business bureau and vice President of Zhangjiajie CPPCC, Zhuang Qining, vice President of Hunan FOC and president of Hunan OC Chamber of Commerce, Ye Jingtao, vice President of Hunan FOC, and guests from 20 countries and regions, attended the event.