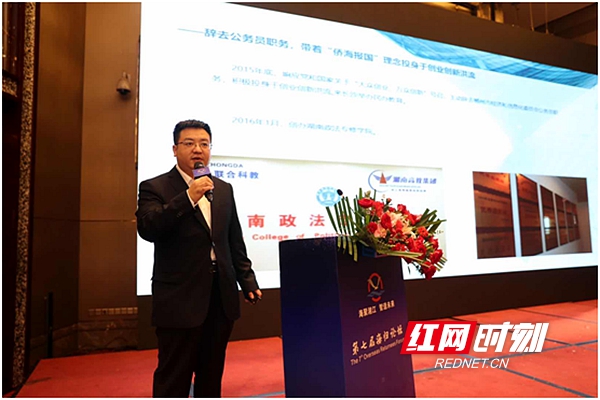 "Well-dressed returnees are not a label. Real returnees should have a sense of social responsibility and a sense of national mission." Chen qiang was an international student at the University of British Columbia, majoring in international relations.
"My major requires very high academic performance, with more than 200 pages of literature reading every day. Only by achieving an A average in the course and an A+ in core courses can I graduate successfully." The academic experience sharpened his will and forged his "iron man spirit".
After graduation, Chen Qiang returned to his hometown Chenzhou.Chen Qiang was determined to change the "pride and prejudice" towards vocational education. He dreams of setting up a higher vocational college with international characteristics, leading overseas Chinese and serving hunan's economic and social construction, cultivating innovative and practical technical backbone talents for the country, and creating a broader path for education and family disadvantaged groups to become talents.
On April 9, 2016, the opening ceremony of Hunan Institute of Politics and Law was held in Changsha. In 2017, 2018 and 2019, the school was rated as an Excellent school by changsha Bureau of Education for three consecutive years.
Changsha Huazhong Information Technology Vocational school, which Chen Qiang had high hopes for, was officially launched this year. Changsha Huazhong Information Technology Vocational school launched "Zhigong zhongxin science class" project.The 50 poor students in the class would be free of tuition fees for three years, and there would be an annual subsidy of 2,000 yuan per student for living expenses. Chen Qiang has donated 100,000 yuan for education this year and will continue to donate 100,000 yuan every year.
"I believe China's vocational education has a lot to offer." Chen Qiang's Chinese dream begins with feelings, comes from struggle, is loyal to the motherland, and benefits everyone.