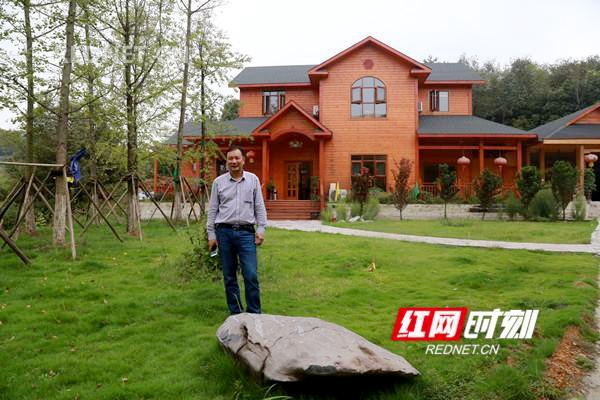 In Lingling District of Yongzhou city, there is a well-known overseas Chinese. Every time he is mentioned, people around praise him with thumbs up and say, "He is a good man who helps us to get rid of poverty and get rich and revitalize the rural economy!" He is Jiang Hongsong, chairman of Yongzhou Xiaoxiangyuan ecological science and technology development Co., LTD..
Jiang Hongsong, an Austrian Chinese, returned to China in 2007 to start his own business. He founded Yongzhou Xiaoxiangyuan Ecological Science and Technology Development Co., LTD., which was located in the famous mountain village of Huangtianpu Town, Lingling District. Since 2007, Jiang Hongsong has donated more than 2 million yuan to help and assist 155 people in special poverty, donated 2.1 million yuan to public welfare undertakings such as roads, Bridges and water conservancy, and helped more than 180 people with difficulties to find jobs.
Jiang Hongsong is a member of the 6th and 7th Federation of Overseas Chinese in Hunan, and a member of the 3rd and 4th Standing Committee of Yongzhou FOC. He is enthusiastic about helping others, and enthusiastic about Lumei's hometown and public welfare undertakings. In 2008, the second year of his return to China, there was a big earthquake in Wenchuan, Sichuan province. He discussed with his wife about donating 20,000 euros to the disaster area. Since 2011, he has successively funded the tuition fees and living expenses of Li Hongbo, Shanglingqiao Village, Lengshuitan District, and other six students in poverty from high school to university for six years, totaling more than RMB 600,000...
When it comes to entrepreneurship, Jiang Hongsong feels that entrepreneurship must endure hardship, struggle and innovation.
Jiang Hongsong continues to do a good job of Yongzhou Aodu concrete Co., Ltd. as economic backing to feed back ecological agriculture, on the other hand, in 5,000 mu of barren hills, barren slopes and other forest land planted with fruit, actively mobilize and help the local people to develop the economy under the forest.
In 2017, Jiang hongsong volunteered more than 3,200 mu of land to cultivate peanuts, soybeans, sweet potatoes and other undergrowth crops. At the same time, Jiang Hongsong carried out the "six unified" measures of unified superior varieties, unified technologies, unified standards, unified management, unified disease control and insect control, and unified protective price purchase for the crops planted under the forests of farmers, which alone increased the income of more than 100 farmers around by more than 4,000 yuan every year.
At the same time, Jiang Hongsong also actively create jobs to increase the income of the nearby farmers. Every year, five impoverished households are hired to help cut grass, clean up pollution and manage fish in the reservoir, with a monthly income of 3,000 yuan. The leisure farm employs more than 20 local poor families to grow vegetables, clean and manage the farm, with a monthly income of 3,500 yuan, etc.
Now, in Jiang Hongsong's leisure farm, there are poor families working in fish farming, vegetable farming, cleaning, afforestation, fruit farming and internal management of forest fruit area, which can increase the average income of more than 150 farmers around each year by more than 10,000 yuan.
With the continuous expansion of Jiang Hongsong's ecological agricultural park, more and more nearby people have embarked on the road to poverty and well-off life. Jiang Hongsong's green ecological Agriculture park has also been awarded the ministry of Agriculture (now the Ministry of Agriculture and Rural Affairs) healthy breeding demonstration site, four-star "Hunan Leisure Agriculture Manor", "Hunan Leisure Agriculture Demonstration Site" and "Hunan Five-star rural Tourism Attraction".
Red heart patriotic map green scene, poverty relief beauty home. When it comes to the future development, Jiang Hongsong told reporters, "in five years time, in consolidating the first phase of the achievements of ecological NongYeYuan outside, also do a good job in the second stage of modern agricultural ecological sightseeing park construction, to invest 30 million yuan, and then rent" SiHuang "area of 5000 mu, let the green ecological sightseeing agriculture radiation whole lingling, let lingling mountains greener, let lingling more rich people."