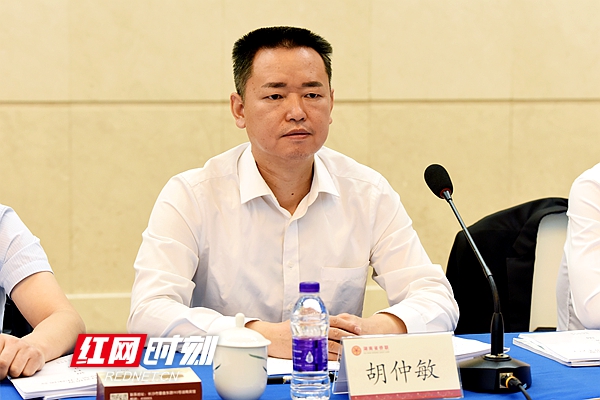 Wuling Mountain area in Western Hunan province is one of the most poverty-stricken areas in China. It is separated by endless mountains, which block the hopes of generations of mountaineers to get out of the poor mountains. In the remote Wuling mountains, Huayuan County, there is always a busy figure in the field, poverty alleviation workshop and project site, he is the family members of American overseas Chinese, Hengyang FOC member, Hu Zhongmin. Two years ago, he came to the targeted poverty alleviation initiative of Huayuan County as a temporary post of the county party committee, deputy county magistrate and hengyang city counterpart help team leader, to this poor mountainous area brought a ray of light.
When Hu first came to Huayuan, he quickly entered into the working role by conducting research, consulting materials and attending conferences in 12 towns and townships of the county.
After full investigation and understanding in the early stage, Hu Zhongmin found that shibaodong Village, as the initiator of targeted poverty alleviation, still had bottlenecks in the development of tourism industry, leaving a blank in the tourism field.
Hu Zhongmin, based on his experience in tourism, put forward some measures such as introducing professional team management, transportation transfer in scenic spots, and recruiting tour guides.
With the help of Hu Zhongmin, 18 hole village construction the impunity of planting base of 100 mu, well for the company to apply for the 18th hole cosmetics series trademark authorization, the production of cosmetics and series products are listed at the end of the year, the company has also established a "10 + N" mode of poverty alleviation, eighteen holes to the villagers and village collective economy to provide continuing financial support.
Since the 18th Cave of Hang Point, Hu Zhongmin has led the task force and the village Branch committee to go out to inspect for many times, to free their minds, to introduce the Project of Yidaoqiao, the seedless and bletilla striate planting base, to plan the actual scene performance of the cave, and to vigorously promote the construction of the 18th Cave Rural Executive Leadership Academy. Targeted poverty alleviation "Huayuan Experience" has been presented as a typical example in many national and provincial conferences.
Over the past two years, under Hu Zhongmin's active efforts, Hengyang implement financial assistance funds of 35.5 million yuan, developed a series of consumer poverty alleviation projects, built 28 poverty alleviation projects, including training and building 212 poor households, led the poor people out of poverty in Huayuan County 11,562 people.
Under the joint efforts of the cadres in poverty alleviation represented by Hu Zhongmin, great changes have taken place in Huayuan County. Once poor and backward mountain villages, has become a little famous web celebrity with goods live point and rural tourism hot spots.