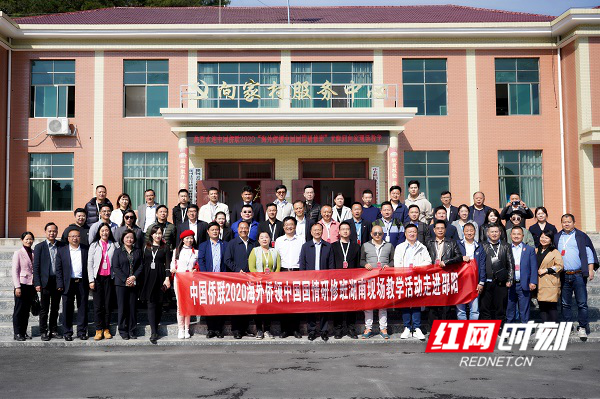 From November 14 to 15, China FOC 2020 Overseas Chinese Leaders Seminar fieldresearched in Shaoyang, Hunan.
In Xiangjia Village, overseas Chinese visitors visited Longhui's unique natural scenery Niutianling and Moon Lake, and experienced local tourism projects. By visiting and observing the characteristic development mode of Xiangjia Village and tasting the local characteristic agricultural products, the overseas Chinese leaders felt the great changes brought to this small mountain village by targeted poverty alleviation.
As a former poor village, the village collective economy was almost zero. From April 2014, Xiang Changjiang, Chairman of Hunan Overseas Chinese Business Association and chairman of Hunan Huaxing Industrial Development Co., LTD, has invested a total of 150 million yuan in poverty alleviation efforts to renovate the village's infrastructure such as water, electricity, roads and Internet, vigorously develop the collective economy such as planting, breeding and rural tourism, and provide assistance to Xiangjia village in targeted poverty alleviation.
During the stay in Shaoyang, overseas Chinese leaders also participated in research on Shaoyang city situation and investment promotion held by Shaoyang Municipal Party Committee and municipal government.
Overseas Chinese guests said that they would give full play to the advantage to their advantages, bring the good projects they have seen and felt in Shaoyang back to their country or place of residence, promote Shaoyang, and serve as the "bridge" and "link" for economic and cultural exchanges and cooperation between Shaoyang, Hunan, China and other parts of the world.".