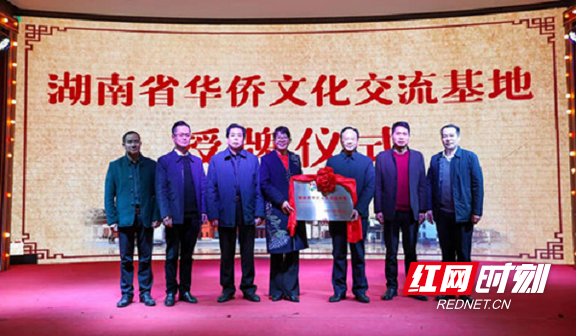 Overseas Chinese cultural Exchange Base in Hongjiang Ancient Mall was awarded.
On December 28, Huang Fang, secretary of the Party Group of Hunan FOC conferred the brand of Overseas Chinese Cultural Exchange Base of Hunan to Hongjiang Ancient Mall. Related leaders from Huaihua Municipal United Front Work Department, Huaihua FOC, Hongjiang District, and Hongjiang ancient mall attended the awarding ceremony.
Huang Fang congratulated the official listing of Hongjiang Ancient Mall. "Hunan overseas Chinese cultural exchange base", she says,"is to carry forward Chinese excellent culture, an important window to promote sino-foreign cultural exchanges, is the overseas organization integration of social resources, promote the complementary advantages, resultant force to carry out the important platform for cultural exchange activities at home and abroad, is the overseas organizations at all levels actively expand to deepen the important carrier of patriotism theme activities. It was hoped that Hongjiang District would give full play to its own advantages and make full use of this platform to further carry out cultural exchanges among overseas Chinese, continue to carry out rich and colorful cultural exchanges among overseas Chinese, spread Chinese culture, tell stories of China and Hunan well, and enhance the influence and popularity of Hongjiang Ancient Mall at home and abroad.
In recent years, Hongjiang Ancient Mall has organized activities as "Seeking the ancestors of Hunan Merchants", "Sino-South Korean Zen Culture Tourism Festival" and "World Go Summit Competition" around the commercial road culture, and received many overseas visiting groups and research groups, which actively promoted the overseas spread of Chinese culture.
In the next stage, Hongjiang District FOC would effectively build and make good use of the "Hunan Cultural Exchange Base for Overseas Chinese", and focus on promoting cultural exploration, cultural inheritance and cultural innovation.