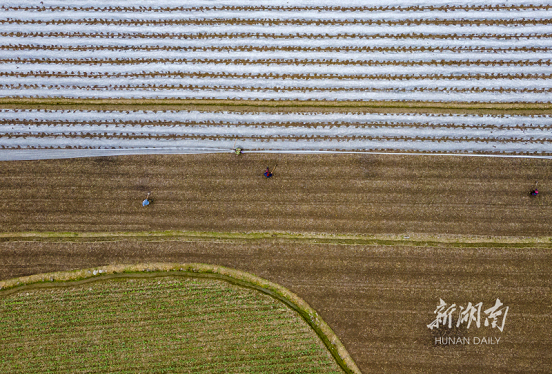 The photo, taken on January 4, shows villagers covering crops with plastic film at Ximenkou Village, Qianzhou Neighborhood, Jishou City. January 5 marks the Slight Cold, the 23rd solar term according to the traditional Chinese lunar calendar, ushering in the coldest period of the year in China. Local farmers are busy planting and maintaining crops during the period. (Photo/Liu Zhenjun)
Slight Cold (Chinese:小寒), the 23rd solar term, begins this year on Jan 5 and ends on Jan 19. During Minor Cold, most areas in China have entered the bitter cold stage of winter. The ground and rivers are frozen. The cold air from the north moves southward continuously.
Although "Slight Cold" means less cold than the following solar term, "Great Cold", there is an old saying in China that goes, "The days of the Sanjiu period are the coldest days." "Sanjiu period" refers to the third nine-day period (the 19th-27th days) after the day of the Winter Solstice, which is in Slight Cold. Actually Slight Cold is normally the coldest period of winter. It is important to keep warm during this period.
This article is from Hunan Provincial Government www.enghunan.gov.cn.
Translator: Xiao Juan
Chinese source: hunantoday.cn