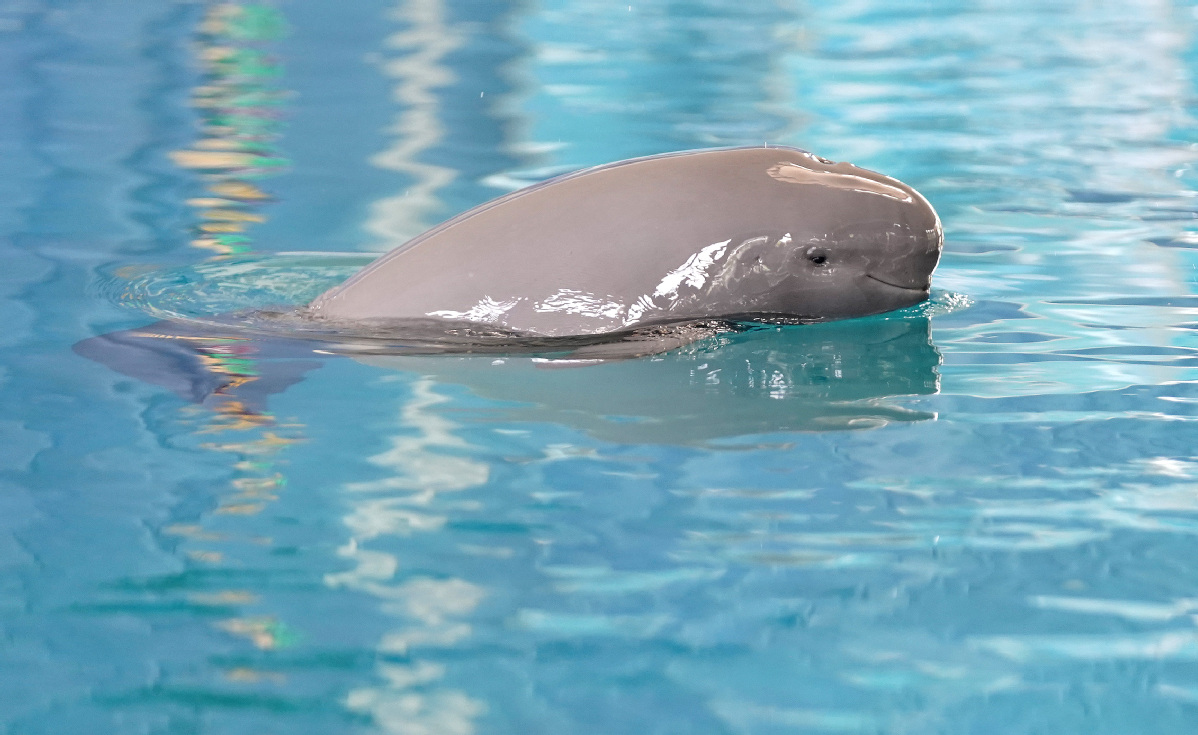 A captive Yangtze finless porpoise. [Photo/Xinhua]
Experts hope the critically endangered finless porpoise will be better protected after the country's first regional regulation about the species came into force on Jan 1 in Anqing, Anhui province.
Passed by the city's people's congress, the Anqing Regulation on the Protection of the Yangtze Finless Porpoise strengthens efforts to save the highly intelligent species from extinction, said Yu Daoping, an expert of finless porpoise protection at Anqing Normal University.
"The new regulation provides a legal basis to further curb human activities that would be harmful to the species," he said.
Following the introduction of a ban on fishing in the main stream of the Yangtze River and its key tributaries from the start of this year, the Anqing regulation extends the ban to other key waters in the city to protect the finless porpoises' food sources.
The regulation also prohibits construction projects unrelated to ecological restoration and restricts the passing of vessels in the species' main habitats, which include a nature reserve and a relocation zone in the city.
Finless porpoises-dubbed "water pandas" because they are rarer than the giant panda-have been placed under protection by various government initiatives.
A national survey conducted in 2018 showed there were about 1,020 finless porpoises, Yu said, adding that there are about 250 in Anqing.
Yu, a professor at the university, has been engaged in researching and protecting cetaceans for 35 years.
He said there are eight nature reserves for the finless porpoise along the Yangzte River in Anhui, Hubei, Hunan, Jiangsu and Jiangxi provinces, in addition to four relocation zones in Anhui and Hubei.
"About half of the population has been well protected by current laws and regulations," he said.
Anhui and Hubei each have four protected areas.
Protection of the species had mainly been based on the national fisheries law, wildlife protection law and regulations on natural reserves, Yu said, adding that the laws and regulations had their limits.
"Take the national regulations on nature reserves, for example. They are more suitable for administration of closed ecological systems but often fail to curb human activities harmful to the species in open waters, such as the construction of bridges and passing of vessels," he said.
"I hope that through the legislative efforts and hopefully effective practice of the city, provincial regulations will be enacted in the future," Yu said.