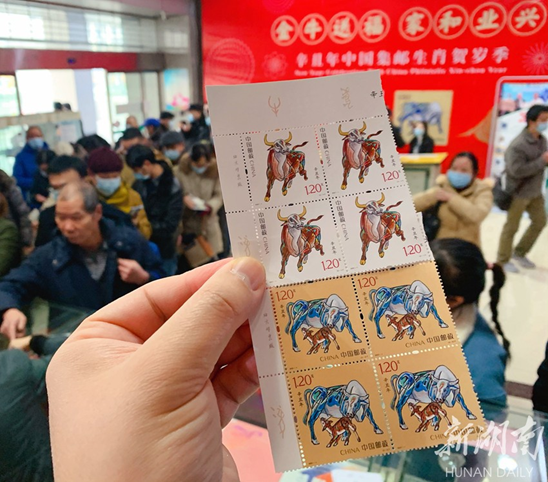 The photo, taken on January 5, shows people lining up to buy newly issued special stamps themed on the Year of the Ox at the Changsha Railway Station post office. A set of two Year of the Ox stamps, with a total face value of 2.4 yuan, were issued on that day. The Year of Ox, or Chinese traditional lunar New Year of this year, starts from February 12. (Photo/Xu Xing, Hunan Daily)
Drawn by famous artist Yao Zhonghua, the new stamps continue to carry the idea of "Nation-Family", and express the cultural implications of the ox deeply rooted in the hearts of ordinary Chinese: hardworking, persistent, practical and devoted .
Beginning in 1980, China Post has been issuing specially designed Chinese zodiac year stamps featuring each of the 12 zodiac animals, to celebrate the Chinese New Year.
Source: en.changsha.gov.cn