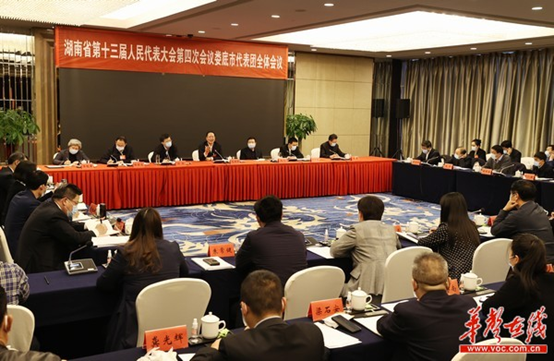 On January 25, Mao Weiming, CPC Hunan Provincial Committee deputy secretary and Hunan acting governor, participated in the deliberation of Loudi delegation. (Photo/Liu Shangwen, Hunan Daily)
Mao Weiming, CPC Hunan Provincial Committee deputy secretary and Hunan acting governor, joined the deliberation of the Loudi delegation to the Fourth Session of the 13th Hunan Provincial People's Congress on January 25, 2021. He, together with the delegates, reviewed the government work report, the 14th Five-Year Plan, and the 2035 Vision, Target, and Outline Draft. He asked to implement the spirit of the Fifth Plenary Session of the 19th CPC Central Committee; practise the "Three Highlands and Four New Missions" strategy in accordance with the arrangements made by the Economic Work Conferences of CPC Central and Hunan Provincial Committees; and, contribute to the construction of a modern new Hunan.
Chen Fei, Hunan vice governor; Tian Liwen, Hunan Provincial Higher People's Court president; and Wang Qun, Hunan Provincial People's Government secretary-general, joined the discussion.
The delegates agreed that the government work report thoroughly pursued Xi Jinping Thought on Socialism with Chinese Characteristics for a New Era; comprehensively implemented the spirit of General Secretary Xi Jinping's important speech made when inspecting Hunan; fully reflected the implementation of the "Three Highlands and Four New Missions" strategic requirements; concisely and objectively reviewed the "13th Five-Year Plan" period; accurately schemed the "14th Five-Year Plan"; pragmatically summarized the results of 2020; and, practically arranged the work in 2021. It is a good report elaborating on the progress and boosting confidence.
Twelve representatives, including Liu Fei, Yang Yiwen, Chen Fengwen, Xiao Zunhu, Shi Xiaochun, Huang Dasheng, He Junmin, Yang Wenlian, Zeng Boyi, He Longyao, He Li, and Yu Bo, spoke successively and put forward opinions and suggestions on intelligent manufacturing, industrial digitization, transformation of old communities, planting industrial safety, ecological restoration, and education development.
Acting Governor Mao emphasized that, to ensure a good start in the "14th Five-Year Plan" period, we must adhere to the overall leadership of the CPC; give full play to the leading and guarantee role of exercising full and strict governance over the Party; promote the construction of improving Party conduct, building a clean government, and combating corruption; and establish talent-orientation that emphasizes hard work and actual performance; and, train high-calibre cadres who are loyal to the Party, have moral integrity, and demonstrate a keen sense of responsibility. At the end of the year, we must not relax the work of normalization of epidemic prevention and control and safe production to ensure that people will have a happy and peaceful Spring Festival, he added.
This article is from Hunan Provincial Government www.enghunan.gov.cn.
Translator: Yu Jiangjiang
Chinese source: hunan.gov.cn