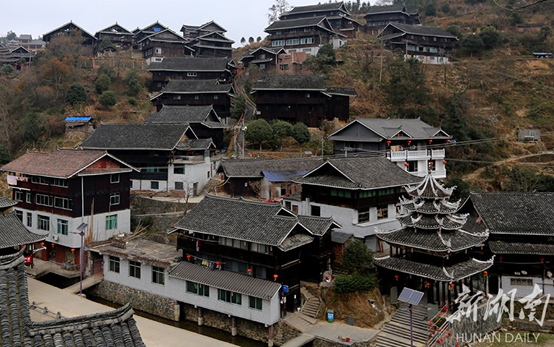 The photo above, taken on January 24, shows more than a hundred stilted buildings surrounding the Drum Tower on the mountainous area in Banpo Village, Pingtan Township, Tongdao Dong Autonomous County.
The blue tiles and yellow wood look antique in style, and the eaves tier upon tier, are well-proportioned. They all contribute to the unique rural style. The village has a history of more than 400 years. Many ancient relics such as the Drum Tower, Gaeml Altar, Ancient Village Gate, Wind-and-Rain Bridge, and Ancient Fort have been preserved and remained still intact. In 2016, the village was selected as one of the "Traditional Chinese Villages". (Photo/Li Shangyin)
This article is from Hunan Provincial Government www.enghunan.gov.cn.
Translator: Yu Jiangjiang