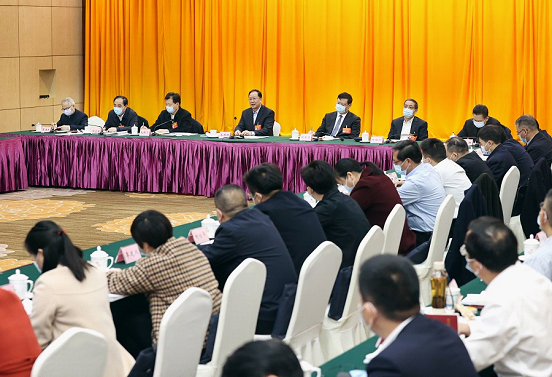 On January 26, Mao Weiming,CPC Hunan Provincial Committee deputy secretary and Hunan acting governor, joined the deliberation ofZhuzhou delegation.
Mao Weiming, CPC Hunan Provincial Committee deputy secretary and Hunan acting governor, participated in the deliberation of the Zhuzhou delegation at the Fourth Session of the 13thHunan Provincial People's Congress on January 26, 2021. He asked to implement the spirits of President Xi Jinping's important speech made when inspecting Hunan and the Fifth Plenary Session of the 19thCPC Central Committee; follow the arrangements made at the Economic Work Conferences of CPC Central and Hunan Provincial Committees;accurately understand the new development stage; act on the new development philosophy and accelerate the establishment of the new development paradigm; and,to shoulder new responsibilities of implementing the "Three Highlands and Four New Missions" strategy.
Provincial leaders Yao Laiying and Yang Weigang, and Wang Qun, Hunan Provincial People's Government secretary-general, attended.
Deputies Mao Tengfei, Yang Weiguo, Jiang Xiaozhong, Li Donglin, Yang Xiaojiang, Zhou Qi, Jin Jicheng, and NPC representative Shan Xiaoming, who attended the meeting as non-voting delegate, spoke successively. They exchanged ideas on the government work report, and draft outlines of Hunan Province's 14th Five-Year Plan for National Economic and Social Development and the Long-Range Objectives through the Year 2035, and put forward opinions and suggestions on regional cooperation in the border areas of Hunan and Jiangxi, industrial cluster cultivation, aerospace industry development, power valley construction, and vocational education development.
This article is from Hunan Provincial Government www.enghunan.gov.cn.
Translator: Yu Jiangjiang
Chinese source: hunan.gov.cn