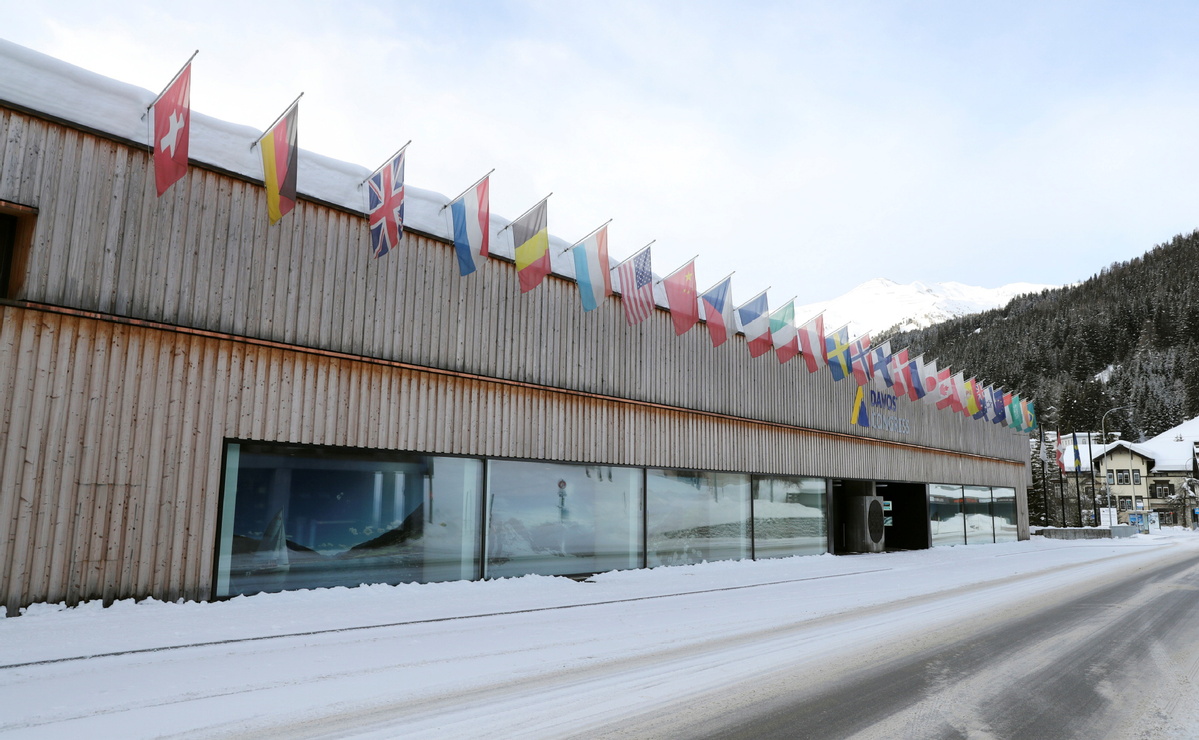 Flags of different countries fly at the congress center at the Promenade street as the COVID-19 continues in Davos, Switzerland Jan 22, 2021. [Photo/Agencies]
A clear definition of multilateralism and a fresh warning against attempts to abuse this key concept were stated in President Xi Jinping's latest speech in an aim to bolster global unity against various challenges, experts and officials said.
They made the observation after Xi, when addressing the World Economic Forum Virtual Event of the Davos Agenda on Monday via video link, proposed four "do's and don'ts" to outline what kind of multilateralism the world now really needs as well as what actually undermines multilateralism.
The world should remain committed to openness and inclusiveness, international law and rules, consultation and cooperation, and keeping up with the times, Xi said.
In contrast, Xi urged countries not to subscribe to closeness and exclusion, seeking one's own supremacy, conflict and confrontation, and rejecting changes.
Xi mentioned "multilateralism" a number of times in his speech because he has clearly grasped the "pulse of the times" and sought to resolve today's challenges with China's propositions, Foreign Ministry spokesman Zhao Lijian said on Tuesday.
"The world is undergoing changes unseen in a century. The COVID-19 pandemic is still ravaging across the globe. The world economy is mired in deep recession. Global challenges keep popping up. All these place mankind at a crossroads," Zhao said.
Gao Fei, vice-president of China Foreign Affairs University, said the four "do's and don'ts" proposed by Xi clearly manifest what China supports and what China opposes at this critical point in history, and they are highly realistic as they are closely aligned with reality.
In his speech, Xi stressed that "multilateralism should not be used as pretext for acts of unilateralism" and that "'selective multilateralism' should not be our option".
Gao said, "In discussions about multilateralism, we have seen some parties resorting to pseudo-multilateralism, and advancing unilateralism in the name of multilateralism."
Su Xiaohui, deputy director of US studies at the China Institute of International Studies, noted that Xi's comment on multilateralism "shows the great depth, scope and diversity of China's perception of the changing global landscape and the prominent issues".
Xi's message is that what China closely follows is not only the imminent challenges but also the deep-seated problems, and how these problems develop when being catalyzed by negative factors such as the pandemic, Su said.
Ideological confrontation strains ties between major countries, while unilateralism and protectionism contribute to wider gaps between developed countries and developing countries, Su warned.
Earlier this month, State Councilor and Foreign Minister Wang Yi said that the international community has high hopes about keeping multilateralism afloat, yet the world should also be alert against pseudo-multilateralism in any form.
China opposes engaging in group politics under the guise of multilateralism, imposing one country's own rules on the international community under the pretext of multilateralism, or making multilateralism an ideological issue in order to target specific countries, Wang said in a group interview with media.
Zhang Ming, ambassador and head of the Chinese mission to the European Union, said that "multilateralism means equality, openness and inclusion", and "the legitimate interests and concerns of all parties should be seriously taken into account".
"No one should monopolize agenda-setting or rule-making, using their own interests and viewpoints as the single criteria. Nor should anyone take multilateralism as a geopolitical tool, seeking selfish interests in the name of multilateralism," Zhang wrote in an article published on Jan 15.
Faced with common challenges such as the sluggish world economy and the still-raging COVID-19 pandemic, world leaders voiced their support for multilateralism at the WEF Davos Agenda meeting, which started on Monday.
United Nations Secretary-General Antonio Guterres reiterated his call for "a reinvigorated, inclusive and networked multilateralism".
"We need one global economy with universal respect for international law; a multipolar world with strong multilateral institutions," Xinhua News Agency quoted the UN chief as saying.
In his speech, Xi also put forward a five-point proposal for China's pursuit of multilateralism.
Xi vowed that China will continue to play an active role in international cooperation on fighting the pandemic, pursue a win-win strategy of opening-up, promote sustainable development, advance science, technology and innovation and promote a new type of international relations.
Chen Fengying, a world economy researcher at the China Institutes of Contemporary International Relations in Beijing, said, "China taking a lead in opening-up against the global economic headwind serves as a staunch support to globalization and multilateralism, and it has also injected strong confidence into the world economy."