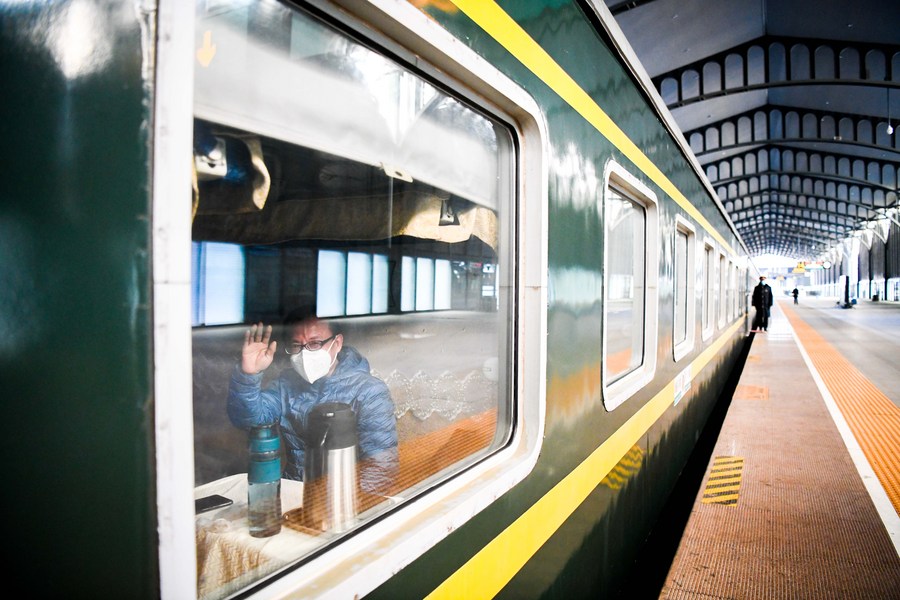 A passenger waves on a train at Harbin Railway Station in Harbin, northeast China's Heilongjiang Province, Jan. 28, 2021. (Xinhua/Wang Song)
BEIJING, Jan. 29 (Xinhua) -- China kicked off its largest annual travel season Thursday, with far fewer passenger trips expected amid stringent epidemic control measures.
In the 40-day travel season, also known as "Chunyun", many people will travel to reunite with their families for the Lunar New Year, or Spring Festival, which falls on Feb. 12 this year.
Following the resurgence of sporadic COVID-19 cases and restrictive measures taken to reduce people's movement nationwide, China State Railway Group Co., Ltd. on Wednesday reconfirmed its adjusted forecast for railway passenger trips during this year's travel season, down from 407 million to 296 million.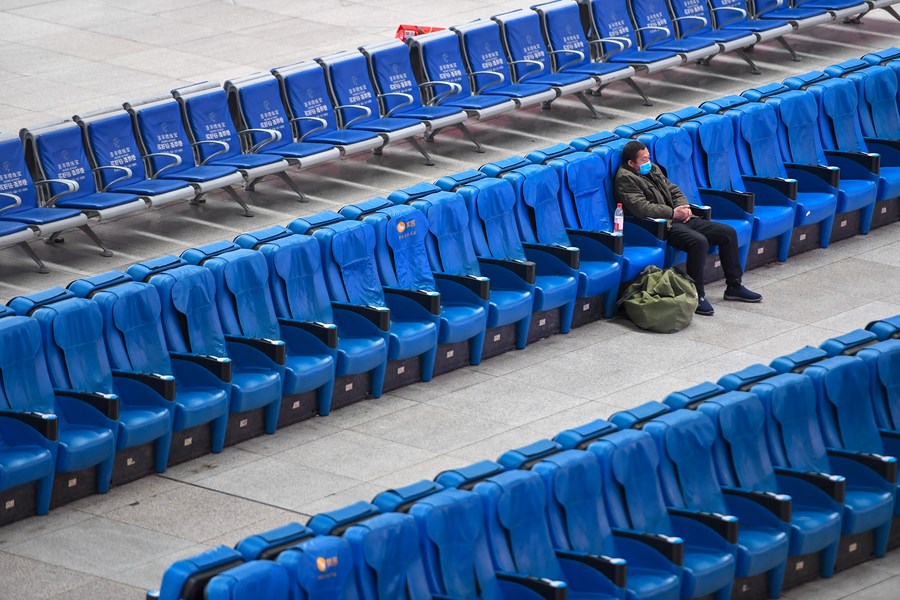 A passenger sits in the waiting hall of Changchun Railway Station in Changchun, northeast China's Jilin Province, Jan. 28, 2021. (Xinhua/Zhang Nan)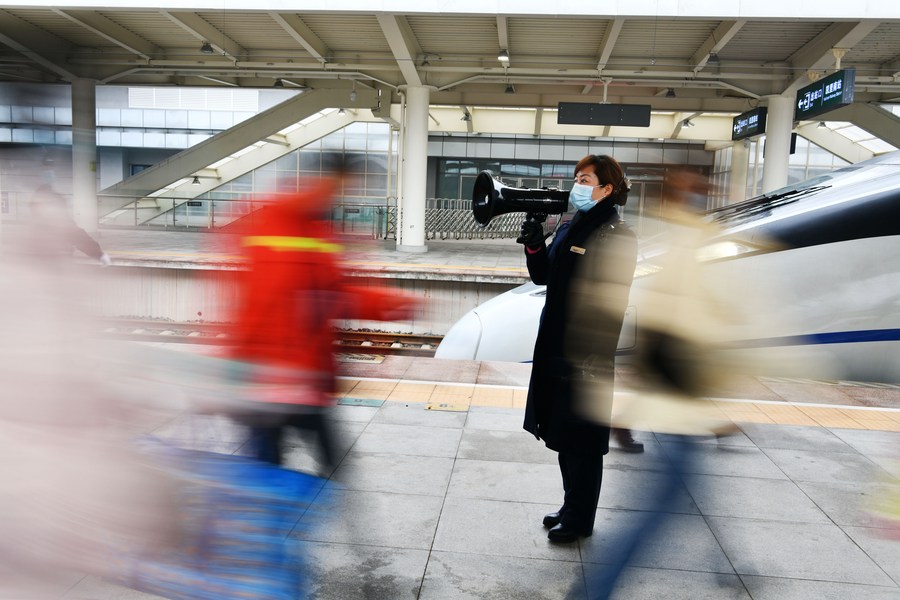 A staff member talks through a loudspeaker to guide passengers at Kaili South Railway Station in southwest China's Guizhou Province, Jan. 28, 2021. (Xinhua/Yang Wenbin)
A staff member helps a passenger scan the health tracking QR code before entering Kaili South Railway Station in southwest China's Guizhou Province, Jan. 28, 2021. (Xinhua/Yang Wenbin)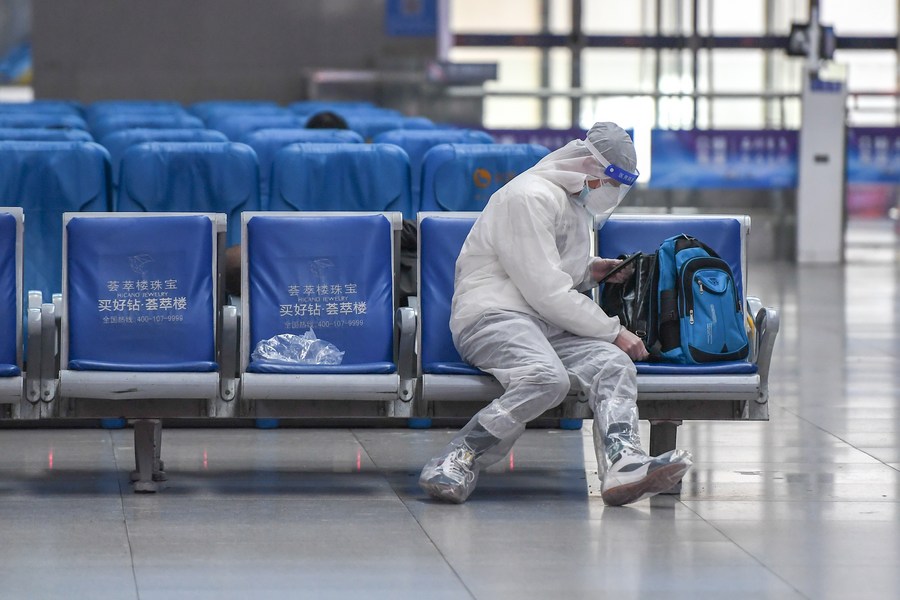 A passenger wearing a protective suit waits to check in at the waiting hall of Changchun Railway Station in Changchun, northeast China's Jilin Province, Jan. 28, 2021. (Xinhua/Zhang Nan)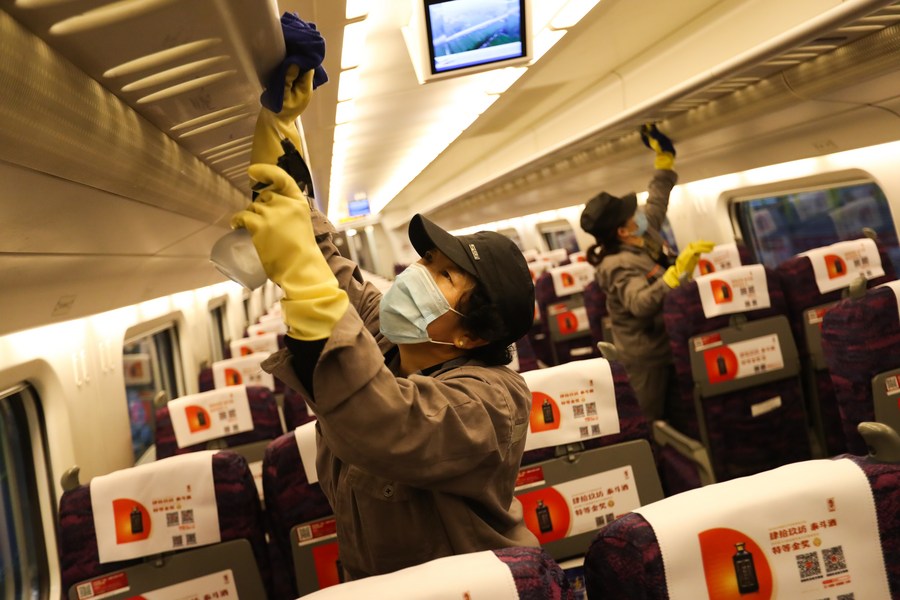 Sanitation workers clean the interior of a bullet train at a maintenance base in Lanzhou, northwest China's Gansu Province, Jan. 27, 2021. (Xinhua/Ma Xiping)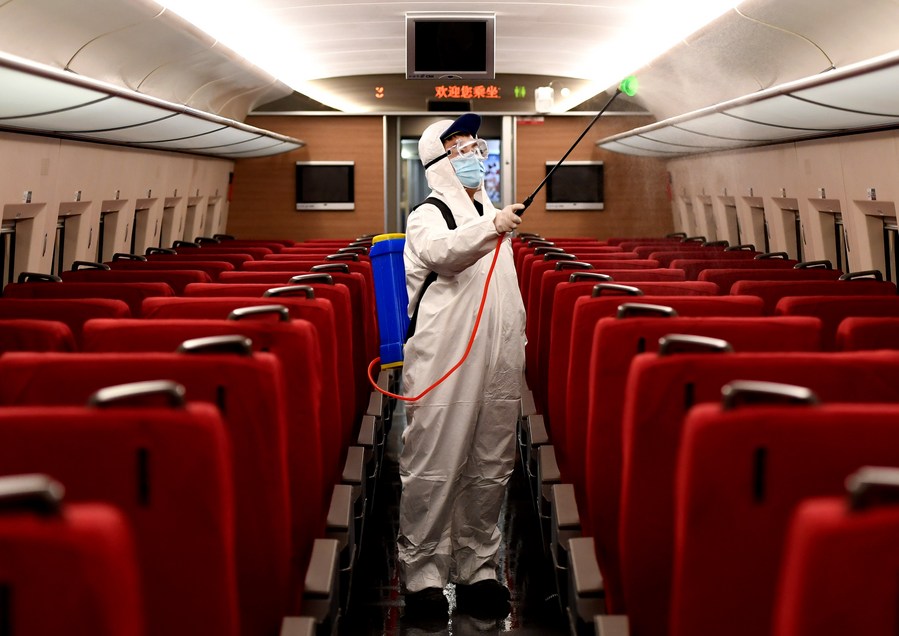 A staff member disinfects the train car of a bullet train at a maintenance base in Zhengzhou, central China's Henan Province, Jan. 28, 2021. (Xinhua/Hao Yuan)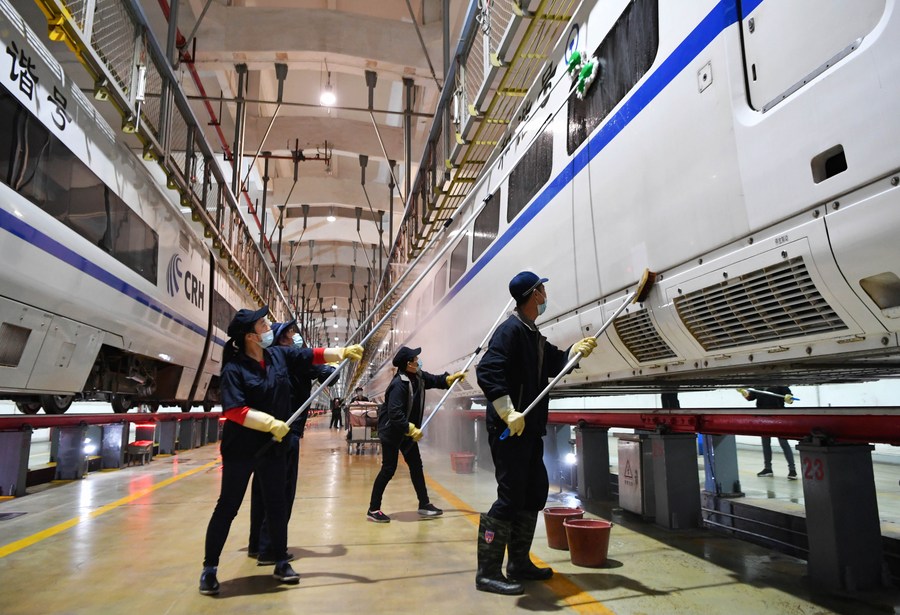 Sanitation workers clean the exterior of a bullet train at a maintenance base in Fuzhou, southeast China's Fujian Province, Jan. 27, 2021. (Xinhua/Wei Peiquan)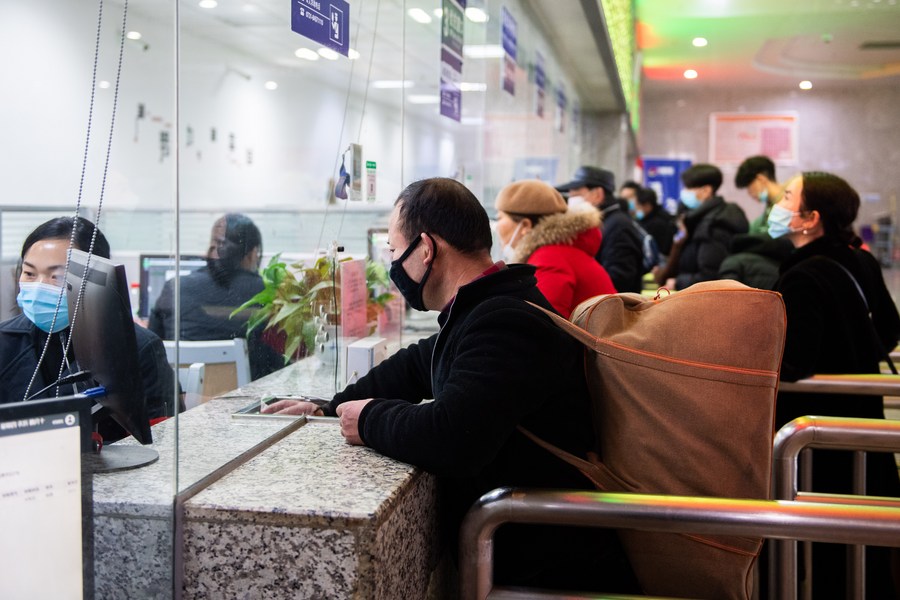 Passengers buy tickets at Changsha West Bus Station in Changsha, central China's Hunan Province, Jan. 28, 2021. (Xinhua/Chen Sihan)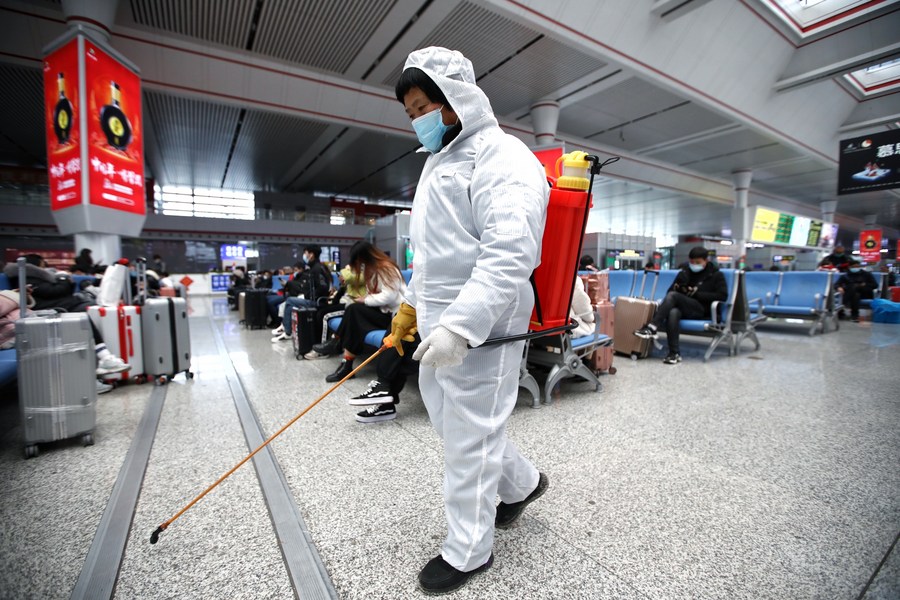 A staff member disinfects the floor at Guiyang North Railway Station in Guiyang City, southwest China's Guizhou Province, Jan. 28, 2021. (Xinhua/Liu Xu)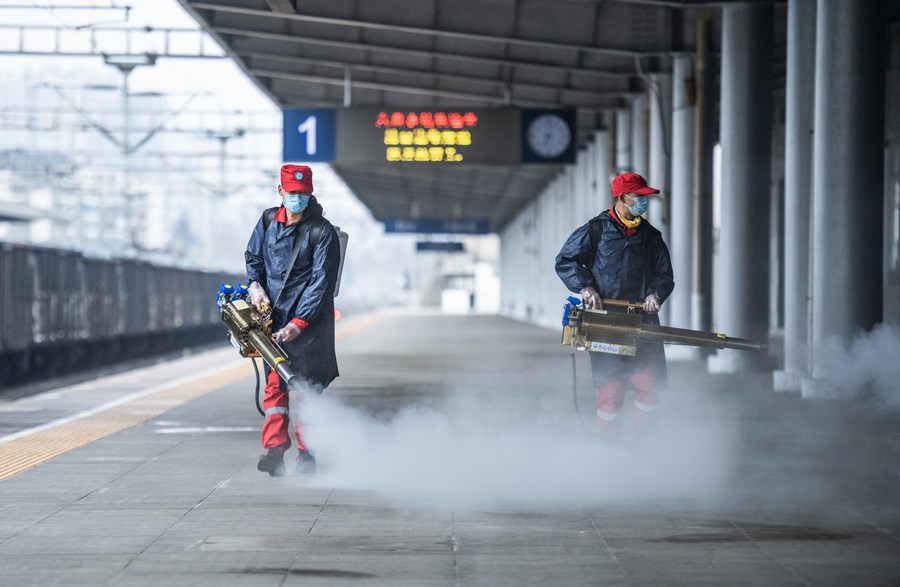 Volunteers disinfect the platform of Liupanshui Railway Station in Liupanshui, southwest China's Guizhou Province, Jan. 28, 2021. (Xinhua/Tao Liang)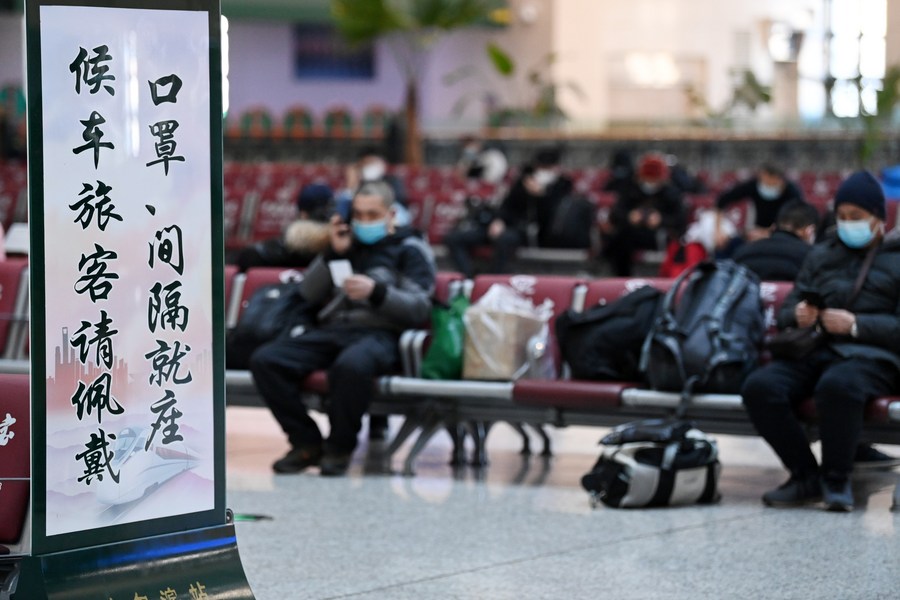 Passengers keep social distancing while waiting to board the train at Harbin Railway Station in Harbin, northeast China's Heilongjiang Province, Jan. 28, 2021. (Xinhua/Wang Jianwei)