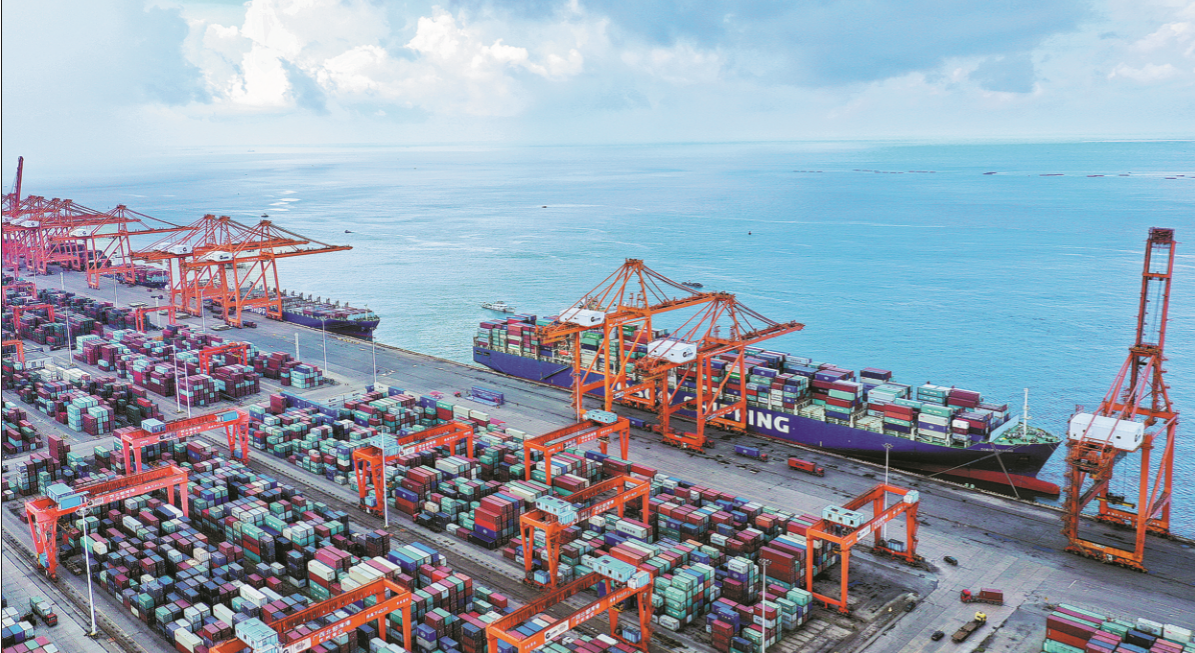 China COSCO Shipping's Zhongyuantaicang container ship, with a tonnage exceeding 10,000 tons, docks at the Beibu Gulf Port in Qinzhou, Guangxi Zhuang autonomous region. [Photo provided to China Daily]
Proposal intended to stimulate vitality, drive dual-circulation development
China unveiled on Sunday an action plan to build a high-standard market system, which industry experts said will greatly stimulate its market vitality and drive the country's dual-circulation economic development.
The action plan, launched by the General Office of the Communist Party of China Central Committee and the General Office of the State Council, said that over the next five years, the country aims to build a high-standard market system that is unified, open, competitive, and meanwhile, with complete regulations and sound governance.
To achieve the goal, the plan listed several tasks including improving the regulation systems, such as that of property rights, promote efficient allocation of essential resources, improve market environment and quality, and drive the higher level of reform and opening-up.
More efforts will also be made to give full play to the decisive role of the market in resource allocation and to let the government better play its role, so as to smooth domestic market circulation and boost market efficiency, it said.
"The high-standard market system will ensure fair competition and effective allocation of all kinds of resources through the market, and it will furthermore promote the nation's high-quality economic development," Jiang Xiaojuan, head of the School of Public Policy and Management at Tsinghua University, said in a note.
Jiang said that the high-standard market system has its significance especially when the COVID-19 pandemic has brought about new challenges to the market development.
Wang Yiming, vice-chairman of the China Center for International Economic Exchanges, said deepening market reforms, including the high-standard market system, will help redress weak links in economic development and inject new growth momentum.
For instance, speeding up the reforms dealing with property rights, as pointed out in the plan, will help provide researchers with stronger incentives for innovation, Wang said.
Notably, the newly unveiled action plan highlighted the role of expanding the opening-up of the service industries, including that of finance, healthcare and education.
Luo Zhiheng, chief macroeconomic analyst at the research institute of Yuekai Securities, said broadening market access in such areas as healthcare and education will help strengthen the social protection network and boost people's willingness to spend, unleashing the potential of domestic demand.
Luo added that it is important to strengthen the system of industry standards and carry out effective supervision while easing the access to services sectors.