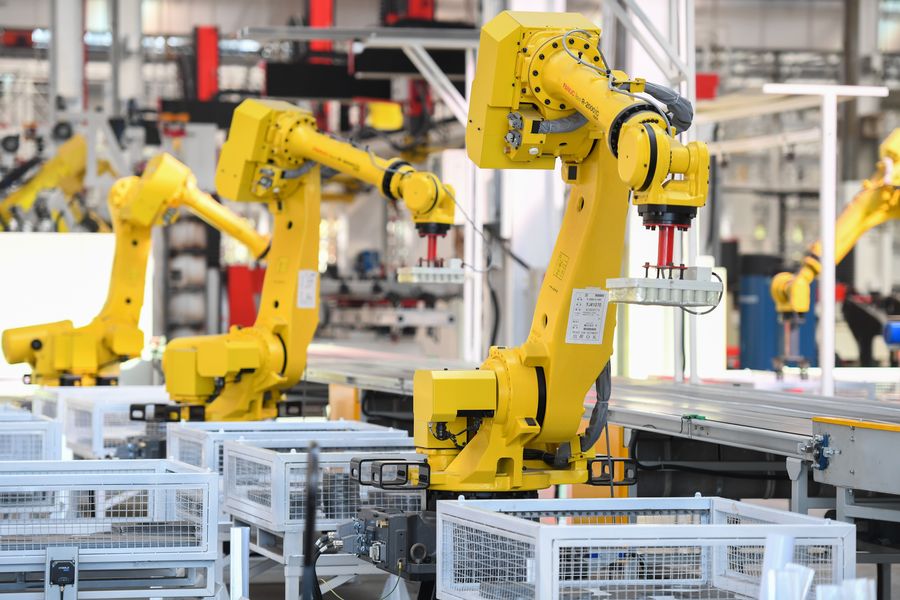 Photo shows robots working at a plant of Sany Heavy Industry in Changsha, Central China's Hunan province, Feb 20, 2020.[Photo/Xinhua]
China's industrial robot production rose 19.1 percent year-on-year to 237,068 units last year, data from the Ministry of Industry and Information Technology showed.
In 2020, China's major industrial robot makers above a designated size raked in 53.17 billion yuan ($8.24 billion) in operating revenue, up 6 percent from a year earlier.
During the same period, their profits fell 26.9 percent year-on-year to 1.77 billion yuan, and the decline was 24.4 percentage points narrower than that in the first three quarters.
In December alone, the country produced a total of 29,706 industrial robots, up 32.4 percent on a yearly basis.
In 2020, China's robot manufacturers above a designated size that specially produce robots for service consumption posted revenue of 10.31 billion yuan, up 31.3 percent year-on-year. Their profits reached 70 million yuan, compared with a loss of 1.81 billion yuan a year earlier.
Last year, major manufacturers that produce robots for special operations registered revenue of 2.88 billion yuan, up 24.7 percent year-on-year, and profits of 120 million yuan, down 42.9 percent year-on-year.