To deal with increasing COVID-19 nucleic acid testing demand recently, some hospitals in Changsha launched door-to-door testing service. Residents, or employees, can take tests at home or in their companies.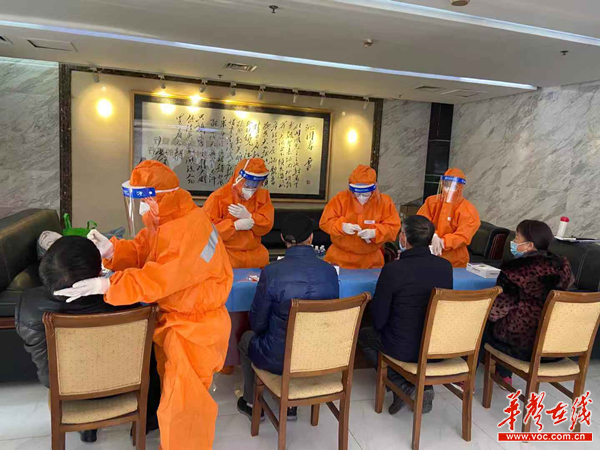 The photo shows personnel of the Third Hospital of Changsha take samples for nucleic acid testing at a company. The Health Management Center of the hospital sent medical personnel to the company to take samples for the employees. E-report of test results can be checked on the hospital's WeChat public account 6 hours later, and the paper reports would be sent to the company the next day. (Photo by the Third Hospital of Changsha)
On January 19, the Second Hospital of Hunan University of Chinese Medicine, also the Hunan Hospital of Chinese Medicine, collaborated with an "internet + nursing service" platform to launch nucleic acid testing service at doorstep. Residents may search for "格尔护士" on WeChat, and make reservations on this platform. The hospital is China's first public Chinese medicine hospital launching door-to-door nucleic acid sampling service. Such service is available for families with five or more members, and companies.
The Fourth Hospital of Changsha provides door-to-door sampling service for college students of surrounding universities. Meanwhile, there are several nucleic acid sampling sites and self-service sampling machines in the hospital, to provide convenient "one-stop" sampling service.
A number of hospitals open online service for nucleic acid testing, including the Second Xiangya Hospital of Central South University, Hunan Provincial People's Hospital, First Hospital of the Hunan University of Chinese Medicine, Changsha Central Hospital, and Changsha Hospital of Traditional Chinese Medicine (Changsha Eighth Hospital). Residents can complete application, reservation, and payment for nucleic acid testing, and check test results, on the WeChat public accounts of these hospitals.
The Changsha Hospital of Traditional Chinese Medicine and the Hunan Cancer Hospital increased sampling sites. The Changsha Hospital of Traditional Chinese Medicine uses the ambulance parking places at its Xingsha branch as a special zone for nucleic acid testing. Returnees, inpatients and their caregivers, and fevered patients are led to divided zones for sampling, in order to lower the risk of virus infection. The Hunan Cancer Hospital sets six sampling sites at the front square of its outpatient building, and assigns skilled personnel to take samples. The sampling service is open between 7:30 and 15:00 every day.
This article is from Hunan Provincial Government www.enghunan.gov.cn.
Translator: Pang Yuehui
Chinese source: hunan.voc.com.cn