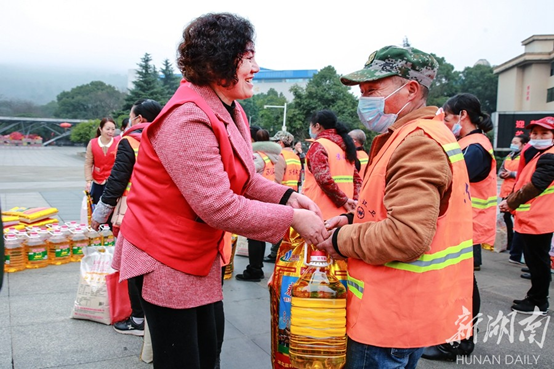 The photo, taken on February 3, shows Shou Yanyan, who's reputed as China's most beautiful volunteer, delivering Spring Festival gifts to sanitation workers at Suxian District, Chenzhou City.
On the same day, Suxian District Volunteer Association held a public welfare activity to care for sanitation workers. Volunteers sent rice, edible oil and other materials to 100 sanitation workers and staged art performances for them, making them feel the warmth of the society.
The activity was under the guidance of the Suxian District Civilization Office. (Photo/Fan Xiangping, Li Tonglin)
This article is from Hunan Provincial Government www.enghunan.gov.cn.
Translator: Xiao Juan
Chinese source: hunantoday.cn