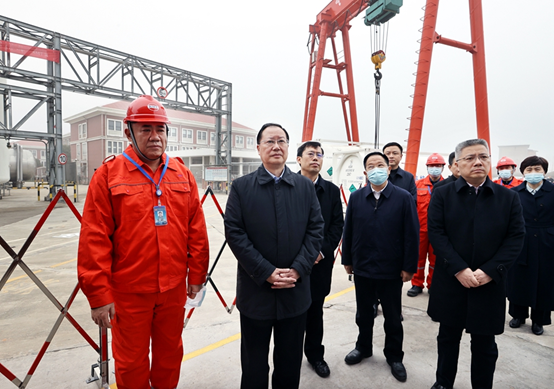 Mao Weiming, CPC Hunan Provincial Committee deputy secretary and Hunan governor, inspected the workplace safety at Hunan Kaimeite Gases Co., Ltd. in Yueyang City on February 3, 2021.
On February 3, Mao Weiming, CPC Hunan Provincial Committee deputy secretary and Hunan governor, supervised workplace safety in Yueyang City. He asked to do well in regular COVID-19 epidemic prevention and control; clarify and shoulder the responsibilities for workplace safety; investigate and rectify hidden safety hazards in key industries and areas; and, implement emergency preparedness measures, to ensure that the people enjoy a happy and peaceful Spring Festival.
Zhu Zhongming, Hunan vice governor, and Wang Qun, Hunan Provincial People's Government secretary general, accompanied him on the tour.
Hunan Kaimeite (KMT) Gases Co., Ltd. is currently the largest professional gas producer and supplier with the largest annual production capacity in China. It is also one of the first batch of outstanding "Little Giant" enterprises nationwide. Governor Mao and his entourage visited KMT plant and central monitoring room to check the workshop safety protection facilities and the implementation of safety responsibilities in key links. He then came to the intersection of the Yueyang Municipal Civil Air Defense Office of Qingnian Middle Road, to learn about the rectification of the stubborn traffic problems.
Governor Mao emphasized that during the Spring Festival, the mobility of people and vehicles will increase, with more gathering activities. It is necessary to get rid of paralyzing thoughts, remain vigilant and never slacken our efforts; implement regular epidemic prevention and control measures; set up a strict prevention and control network; plug prevention and control loopholes; and, prevent the pandemic from rebounding. He requested to strengthen consultation and judgment, joint law enforcement, monitoring and early warning; enhance safety production supervision in key areas, industries, enterprises, and periods; improve emergency plans; fulfill emergency guard on duty; and, make emergency drills and emergency materials preparations, to ensure safety and stability during the Spring Festival.
This article is from Hunan Provincial Government www.enghunan.gov.cn.
Translator: Yu Jiangjiang
Chinese source: hunan.gov.cn