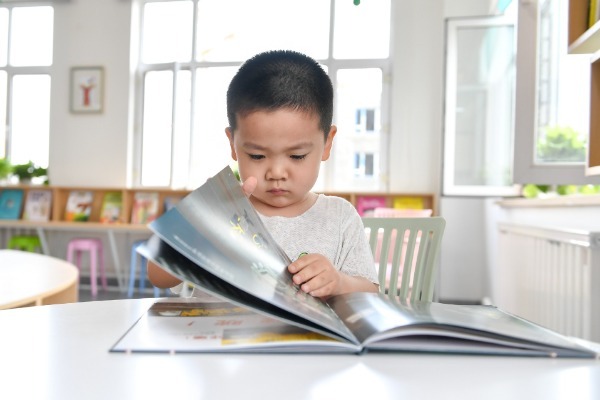 [Photo/Xinhua]
Speed of the essence in securing a child's place in popular English tests
Parents trying to secure a spot for their children in the Cambridge English exams have compared the process to getting tickets for the traditional Spring Festival travel rush-involving the setting of alarm clocks, rehearsals, acquiring access to a fast internet connection and team work.
To make sure their children are not left behind by their peers, parents of primary school students in first-tier Chinese cities have rushed to secure places for their children in the Key English Test (known as KET) and the Preliminary English Test (known as PET), so they can stand out when trying to get into good middle schools.
However, as the tests take place only a handful of times each year and are massively oversubscribed, families often have to go to extraordinary lengths to get their children into a test center.
Liang Yanyan, the mother of a fifth grader in Beijing, said that after twice failing to get a spot for her daughter Meiying to take the PET, she asked her colleagues for help.
"We were in the office waiting for the online booking system to go live. Although I failed again, one of my colleagues succeeded in helping Meiying land a spot in Beijing," she said.
Meiying passed the KET two years ago, when she was in third grade, and took the PET in late December, Liang said.
Although the KET is supposed to be taken by students in middle schools and PET by high school students, most test takers for the two exams in Beijing are primary school students, she said.
It is common knowledge that in order to get into the best public middle schools in Beijing's Haidian district, which ranks top in education resources in the capital, applicants should have a PET certificate to prove their English proficiency, she said. "It's not written in their enrollment notice, but it's a tacit requirement," Liang said.
Zou Ye, the mother of a sixth grader in Beijing's Xicheng district, said she had to take her daughter to Baoding, Hebei province, to take the PET in November as she failed to get a spot in Beijing.
There is also a common understanding among Xicheng parents that the best middle schools require the PET certificate, Zou said.
"We were already late in the game, as many parents had signed up their children for the exams much earlier," she said.
Chinese authorities have taken various measures intended to reduce the academic pressure on young students, including scrapping enrollment tests to get into primary and middle schools.
The Ministry of Education has banned demands for certificates and competition results in middle school enrollment, and primary school students should be enrolled in the middle schools nearest to their homes. It has also asked private schools to enroll students using a random lottery draw since last year.
These moves, however, have not dampened demand for extra qualifications such as Cambridge English certificates, as many private schools and some good public schools still conduct interviews and early enrollment for prospective students, said Tie Dawei, a manager at New Oriental, an English-training consultancy.
When the online booking system opens, it usually only takes seconds for all the spots in Beijing to be taken and many parents have to opt for neighboring Tianjin or Hebei, he said.
Although many parents have simply followed others in signing up their children for the tests, Beijing parents have very high demands for their children's English proficiency and many students start to learn English at a very young age, he said.
"Parents all believe that learning English should start as early as possible and some students start to take the KET in first grade," Tie said.
Liang started to let her daughter watch English cartoons when she was one year old. She also made sure her daughter went to a private international kindergarten with foreign teachers so that she could be immersed in an English-language environment.
After her daughter attended primary school, she signed her daughter up for English after-school training courses as the school only had three English lessons a week.
"As China further opens to the outside world, I think the next generation should be equipped with good English proficiency to view things from a global perspective," she said.
Although the family has spent a lot on her daughter's English education over the years, with the three years of private kindergarten costing about 10,000 yuan ($1,550) a month and the after-school training courses about 10,000 yuan a year, she believes the money was well spent.
"Any investment in children's education is worthwhile," she said. "Good education is key to her future success and happiness."
Zou said her daughter had asked her to sign up for after-school English-training courses since first grade when she found out that her peers had already taken such courses in kindergarten.
"I would not say that she likes to take such courses. However, when most of her classmates are all busy improving their English proficiency, nobody likes to be left behind," she said.