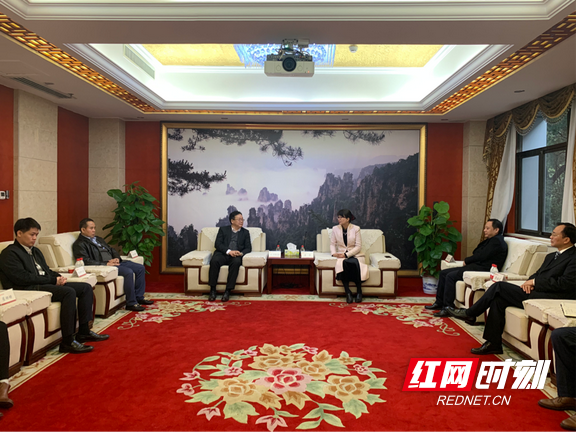 On February 4th, Ben Intabadie, Consul General of the Consulate General of Laos in Changsha visited Hunan Federation of Overseas Chinese. Huang Fang, Secretary of the Party Leadership Group of Hunan FOC, talked with them about their common affairs and development.
Huang Fang expressed warm welcome and said that the Consulate General of Laos in Changsha has made important contributions to the friendly exchanges and development between the two sides. She hoped that the Laos Provincial Federation of Overseas Chinese will continue to do its best to give relevant support and jointly do a good job in the service so as to push for new progress of China-Laos friendship on the occasion of the 60th anniversary of the establishment of diplomatic ties.
Ben Intabadi expressed his gratitude to Hunan FOC for its strong support to the relevant work of the Lao Consulate General in Changsha and sent his best wishes for the Chinese New Year.He said that Hunan is the province that has signed the most sister cities with Laos, and the leaders and businessmen of Hunan nationality have made outstanding contributions to promoting the economic development of Laos, which has been highly concerned and attached importance to by the Lao government.The China-Laos railway will be completed soon, and the transportation between the two places will be more convenient. He hoped that the provincial FOC would visit Laos more in the future, feel the rapid development of Laos, and promote the cooperation and development between Hunan and Laos in more fields.
Sun Minsheng and Li Zuyuan, vice chairman and Party members of Hunan FOC, attended the meeting.