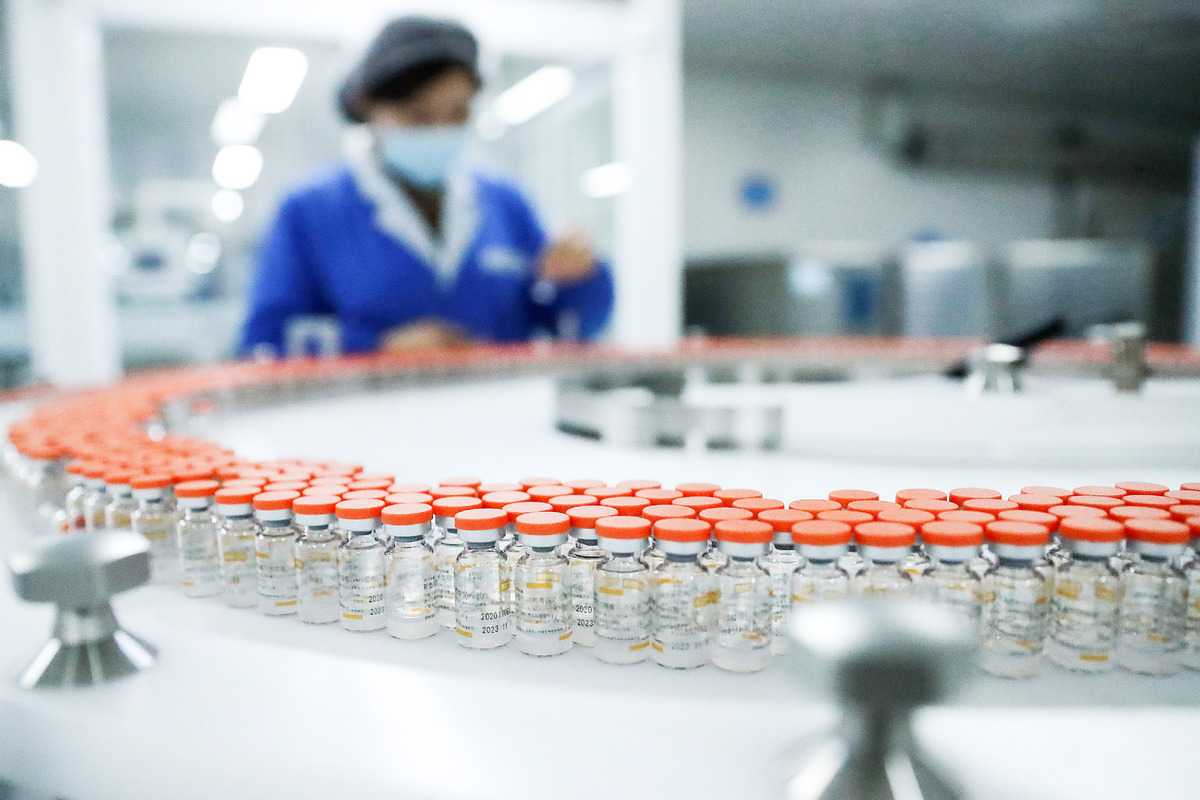 A staff member checks tags on vials of inactivated COVID-19 vaccine at a packing line of Sinovac Life Sciences Co., Ltd. in Beijing, on Dec 23, 2020. [Photo/Xinhua]
Honoring commitment
Yang Xiaoming, chairman of Sinopharm's China National Biotech Group, a major COVID-19 vaccine producer in China, said Beijing's decision to supply 10 million doses of COVID-19 vaccines to COVAX, the World Health Organization's global vaccine initiative, delivers on the commitment to make the vaccines a global public good.
The company's production capacity is expected to exceed 1 billion doses this year, Yang said.
"We will try our best to produce more high-quality vaccines as quickly as possible on the basis of safety and standards to contribute to fairer distribution of COVID-19 vaccines," he said.
In addition, a second COVID-19 vaccine production line has been completed by Sinovac, another of China's leading vaccine makers.
If the new line is put into use before the end of February, it will lead to the doubling of the company's annual production capacity for the vaccine, which will exceed 1 billion doses, Sinovac said.
Facing great demand in China and overseas, Sinovac is producing its CoronaVac vaccine around the clock and at full capacity.
More than 1,200 of the company's employees gave up their Spring Festival holiday and continued working.
"The pandemic is still spreading globally, and the virus fight is far from over," said Yin Weidong, chairman of Sinovac.
The company will continue advancing clinical research of the vaccine and its registration and application in other countries and regions to boost the global fight against the pandemic and improve the accessibility and affordability of COVID-19 vaccines globally, he said.
Since January, CoronaVac has won approval for emergency use in countries such as Indonesia, Turkey, Brazil and Argentina.
More than 10 million doses of the vaccines have been administered overseas since the end of last year.
Liu Yinmeng in Los Angeles contributed to this story.