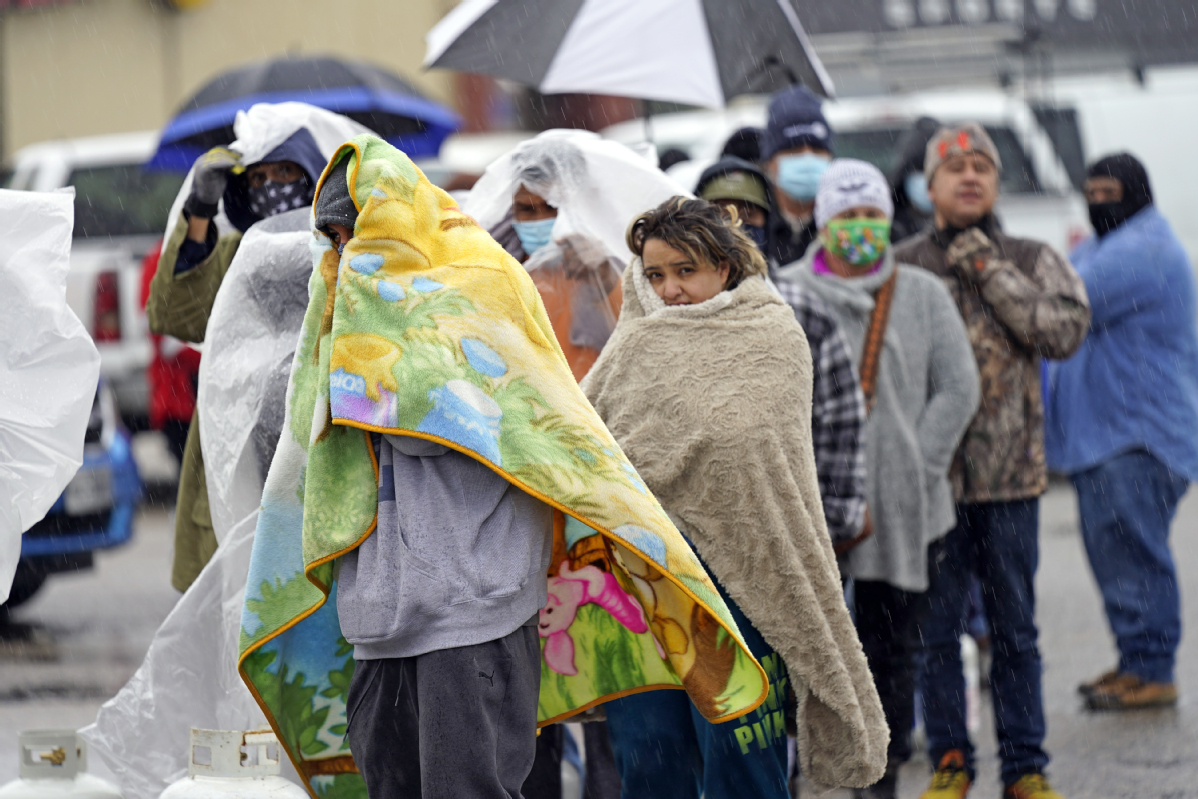 Residents wait in line to fill propane tanks in Houston, Texas, United States, on Wednesday. Millions of Texans still had no power after a historic snowfall, and single-digit temperatures created a surge of demand for electricity to warm up households unaccustomed to such extreme lows, buckling the state's power grid and causing widespread blackouts. [Photo/Agencies]
With temperatures dropping dramatically as a result of the winter storm that has swept across many parts of the United States, there has been an abrupt rise in electricity consumption.
In Texas, which recorded its lowest temperature in nearly 30 years on Feb 14, the price of electricity soared about 200 times, because of the increased demand.
The market reform of Texas' electricity industry started in 1995. It has helped improve the industry's efficiency. But it is also partially responsible for the blackout in the state this time.
Texas usually sees its peak demand for electricity in summer. That's why many power plants shut off their units in February for routine maintenance or overhaul. Even if the natural gas units can be "cold booted" in a hurry, they will be running with much higher operational risks due to their skipping of necessary overhauls.
Also the price of natural gas is high and the costs of power generation remain high, dampening the enthusiasm of power plants to generate electricity.
Undoubtedly, Texas' electricity system needs to improve its pre-warning system so as to minimize the effects of such emergencies on its power supplies. It also needs to give a full play to the market law so that spurred by economic returns power plants will be more willing to generate electricity.
Although operators of the electricity industry should diversify the means of power generation and storage, the blackout in Texas has shown that neither renewable energy nor the large-scale storage batteries is more reliable than the traditional natural gas dynamos in the state under extreme weather conditions.
But still a diversified energy supply system, quality electricity transmission infrastructure and effective collaboration between power grid operators and power suppliers are all of crucial importance to ensure power security.
The marketization of the power system in the West means that it is profits not public interests that drive the power plant owners, which to some extent increases public risks and uncertainties.
With its power system undergoing market reform, China should draw lessons from the failures in Texas. Although its State-owned power system does need to improve its operating efficiency, that should by no means come at costs of sacrificing public interests. Although it is actively developing new energy to replace its backbone coal power units, it must be prudent in eliminating the old coal electricity generators before the alternatives prove to be more reliable in emergencies.