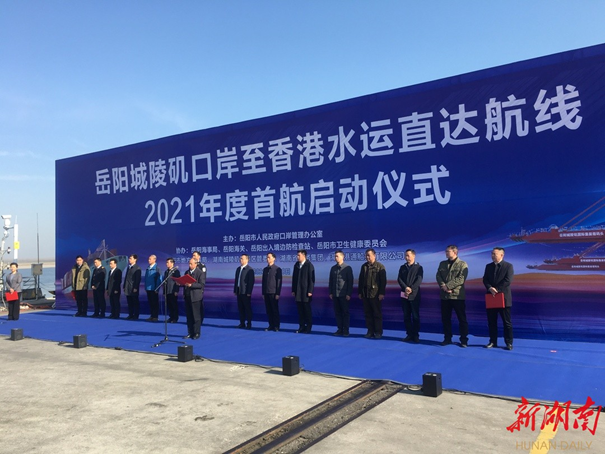 A cargo ship loaded with fireworks set out from the Yueyang Chenglingji New Port on February 20, 2021, and will arrive in Hong Kong in ten days. It is the first direct voyage between Chenglingji Port and Hong Kong in 2021, and also a milestone for Hunan's opening-up.
A ceremony was held to mark the launching of the voyage on that day. Chen Gehui, vice mayor of Yueyang, announced the voyage starts. Zhang Ling, deputy secretary general of the Yueyang Municipal People's Government, chaired the ceremony. Persons in charge of related departments attended, including Wang Wenhua, Zhou Yuping, and Li Yuedong from the Chenglingji New Port Area; Li Jianhua from the Yueyang Comprehensive Bonded Area; and, officials from Yueyang's port, maritime, and customs authorities.
The Chenglingji Port, Hunan's only national first-class water port, is a convenient export channel for Hunan's fireworks and other specialties, and also a direct export channel of international trade. Yueyang is developing a comprehensive shipping logistics center in the middle reaches of the Yangtze River, and accelerating development of the Hunan Pilot Free Trade Zone Yueyang Area, said Vice Mayor Chen. Next, Yueyang will boost smart port construction, expand collaboration and opening up, and facilitate voyage towards Hong Kong, in order to ensure the voyage operates in full capacity and make it a "golden water route" connecting Yueyang, and the whole province, with the world.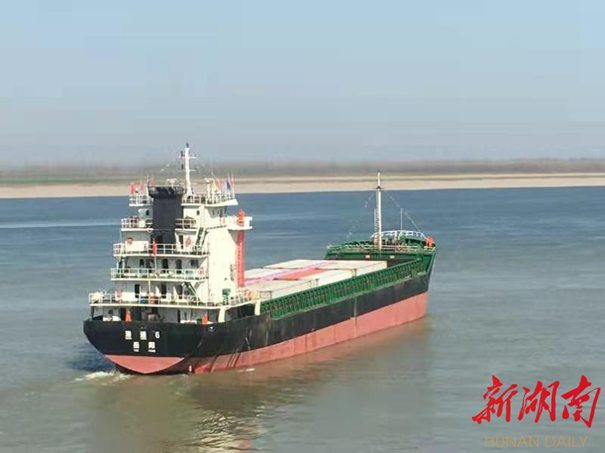 The direct voyage can save four days for the fireworks exporters in Hunan and Jiangxi by reducing customs clearance procedures and logistics costs, compared with the former route transferring through Shanghai.
"With regular operations, the Yueyang-Hong Kong direct voyage will greatly facilitate southward export of Hunan's fireworks and chemical products, and boost Hunan and Yueyang's surrounding regions' economic and trade exchanges with Hong Kong," said Lu Daping, director of Yueyang Port Office. During the 14th Five-year Plan period (2021-2025), Chenglingji Port will launch direct routes towards Taiwan, Japan, South Korea, and other offshore countries and regions. It will be built into a new highland of reform and opening up in inland regions, and inject new vitality into green development of the Yangtze River Economic Belt.
In order to ensure safety of fireworks and other hazardous goods export at the Chenglingji Port, the Hunan Port Administration has constructed a permanent hazardous goods depot, and specially established a storage and transport company. Designated berths have been set up to facilitate one-stop ship service and increase efficiency of the ships of the direct voyage. Beyond that, supporting facilities will be constructed, and the Yueyang-Hong Kong direct liners will operate regularly and steadily.
Source: en.yueyang.gov.cn