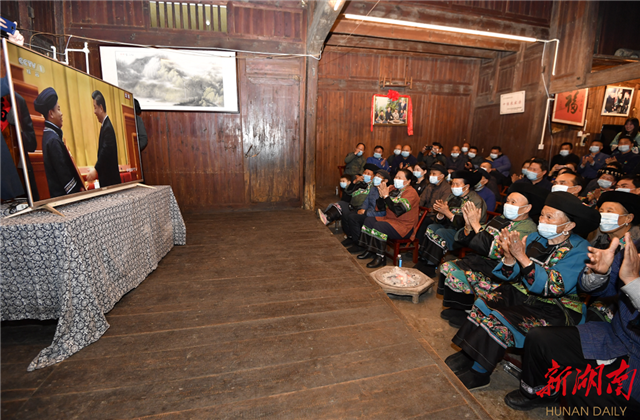 A grand gathering was held to mark the country's accomplishments in poverty alleviation and honor its model poverty fighters at the Great Hall of the People in Beijing, capital of China, Feb. 25, 2021. Shibadong Village in Huayuan County was honored as a "Role Model in China's Poverty Alleviation Fight", and received a plaque from Chinese President Xi Jinping at the event.
Everyone at the Miao village cheered at the good news. The photo shows Shibadong villagers watching the event on television and applauding.
On November 3, 2013, President Xi Jinping talked with local villagers and cadres on "targeted poverty alleviation" at Shibadong Village.
President Xi Jinping put forward a poverty alleviation guideline – seeking truth from facts; following local characteristics; providing category-specific guidance; and, taking targeted measures. Over the past 7-plus years, Shibadong Village has persisted in implementing this guideline, and taken "targeted" efforts to eliminate poverty, including boosting employment, developing industries, ensuring basic needs of the most vulnerable groups, and promoting mutual help.
In 2016, Shibadong Village was among Hunan's first impoverished villages which had been removed from the poverty list.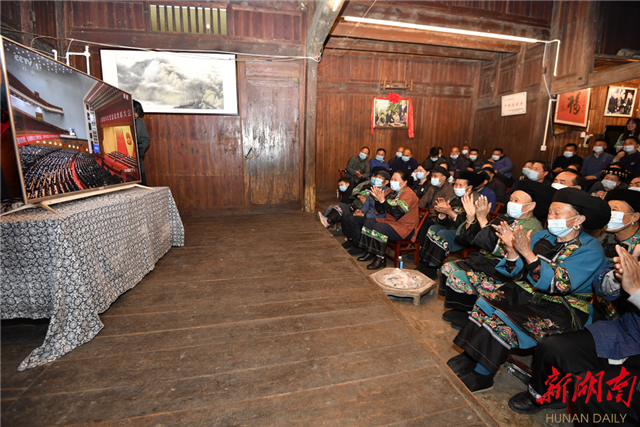 Shibadong villagers' per capita net income increased to 18,369 yuan in 2020 from only 1,668 yuan in 2013. Five industrial sectors – planting and breeding, Miao embroidery, labor service, tourism, and mountain spring water supply – are booming. The collective economy revenue hits two million yuan. Villagers feel more satisfied with the village management committees, with satisfaction rate rising from 68% in the past to today's 98%. A number of single villagers whom President Xi Jinping concerned about, got married.
Over the past 7-plus years, the "targeted poverty alleviation" experience has been promoted from Shibadong Village to the world, and was contained in the UN General Assembly resolution. Shibadong Village has provided useful reference and inspiration for establishing a Chinese model of eliminating poverty for humanity.
This article is from Hunan Provincial Government www.enghunan.gov.cn.
Translator: Pang Yuehui
Chinese source: hunan.voc.com.cn