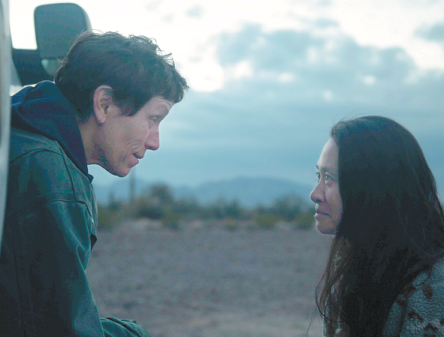 Actress Frances McDormand (left) and director Chloe Zhao talk on the set of Nomadland. SEARCHLIGHT PICTURES/AP
On Monday, Chinese director Chloe Zhao became the first Asian woman to take home the Golden Globe's Best Director-Motion Picture award for Nomadland. The film also pocketed the Best Motion Picture-Drama award at the 2021 annual Golden Globe Awards.
This is not Zhao's first award for Nomadland. Last September, she had grabbed the Golden Lion Award and received a lot of attention as a newcomer. So far, Nomadland has bagged over 30 film awards and over 100 nominations, and many expect it to get the Oscar too.
Zhao was born in Beijing and her global success as a Chinese filmmaker increases the possibility of more Chinese filmmakers entering the global market.
Before Zhao, The Wandering Earth directed by Guo Fan, and Ne Zha directed by Jiaozi, had also received international acclaim. A key reason for their success is because Chinese audiences are seeking better quality work. Their improved taste encourages filmmakers to make better films.
In her award acceptance speech, Zhao quoted from her film to say sympathy can bridge all gaps and bring people together. That is a good way of sharing Chinese values with the world, as well as showcasing Chinese culture's openness and tolerance.
Sympathy is much needed in this world that has undergone a lot of changes because of the outbreak of the novel coronavirus in 2020. And a good film tells stories about reality, not far removed from people's daily lives.
Some say Nomadland meets Western standards, but the truth is that the film touches hearts, whether in China or in the West. Many Chinese audiences, upon reading about the film's storyline, have expressed on social networking sites their desire to undertake a camper trip in search of happiness. Audiences everywhere have felt the pressure the central character in the film faces.
With the film's success, Zhao has won international acclaim. Let's hope she and the entire Chinese film industry get more attention by making good films.