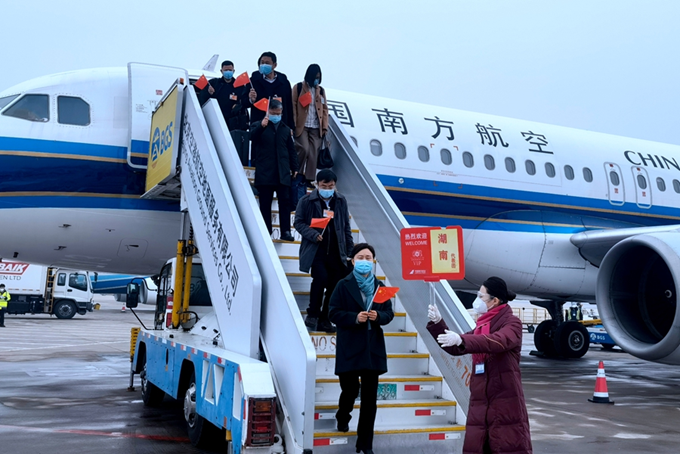 The photo, taken on March 3, shows Hunan-based members of the National Committee of the Chinese People's Political Consultative Conference (CPPCC) arriving in Beijing to attend the fourth session of the 13th CPPCC National Committee. (Photo/Xu Zhen)
At noon on March 3, as China Southern Airlines flight CZ8967 slowly landed at Beijing Capital International Airport, Hunan-based CPPCC members arrived in Beijing to attend the upcoming fourth session of the 13th CPPCC National Committee which will open on March 5.
This year is the 100th anniversary of the founding of the Communist Party of China, the first year of the "14th Five-Year Plan", and it is also the year to embark on a new journey towards the Second Centenary Goal of fully building a modern socialist country . Known as the "two sessions," the annual sessions of the country's national legislature and political advisory body are of great significance. This year the sessions will be convened amid regular epidemic control and after a grand gathering to mark the country's accomplishments in poverty eradication was held.
This article is from Hunan Provincial Government www.enghunan.gov.cn.
Translator: Xiao Juan
Chinese source: hunan.gov.cn