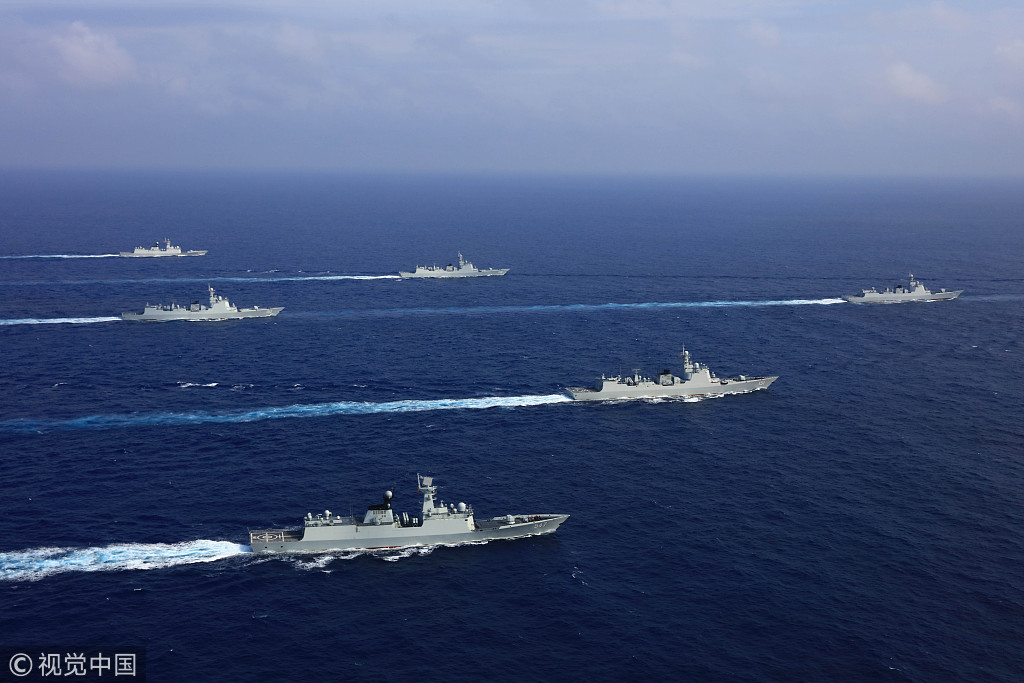 A photo of Chinese PLA navy fleet taken in April, 2018. [Photo/VCG]
The central government has proposed China's defense budget for the 2021 fiscal year at 1.35 trillion yuan ($209.50 billion), a 6.8 percent year-on-year increase, according to a draft budget report submitted to the national legislature on Friday.
The figures were included in the report prepared by the Ministry of Finance and distributed at the opening meeting of the fourth session of the 13th National People's Congress at Beijing's Great Hall of the People.
The proposed expenditure, if lawmakers approve the budget, will maintain single-digit growth for a sixth consecutive year, and will be slightly higher than that in 2020, which recorded the lowest percentage increase in more than three decades.
Last year, the central government proposed defense spending of about 1.27 trillion yuan, a 6.6 percent rise on the 2019 defense budget. That was the lowest growth rate since 1988, when a 3.81 percent increase in the defense budget was proposed.
In fiscal 2019, the central government raised the defense budget by about 7.5 percent year-on-year, setting military expenditure at nearly 1.19 trillion yuan.
Zhang Yesui, spokesman for the annual NPC meeting, said at a news conference on Thursday evening that China's investment in its military is not targeted at and does not pose a threat to any other country.
He said that a moderate, stable increase in China's defense expenditure is for the protection of the nation's sovereignty, security and development interests and is needed for the nation to fulfill its international obligations and to facilitate its military reform.
China's annual defense budget is transparent and open, as it is included in the overall national budget to be reviewed and approved by the NPC, he said, adding that China has reported its annual military spending to the United Nations each year since 2007.
"To judge whether a country poses a threat to other nations, the key lies in the nature of its defense policies," Zhang said. "China is committed to a path of peaceful development and pursues a defense policy that is defensive in nature. Our development in military strength is not aimed at and does not pose a threat to other nations."