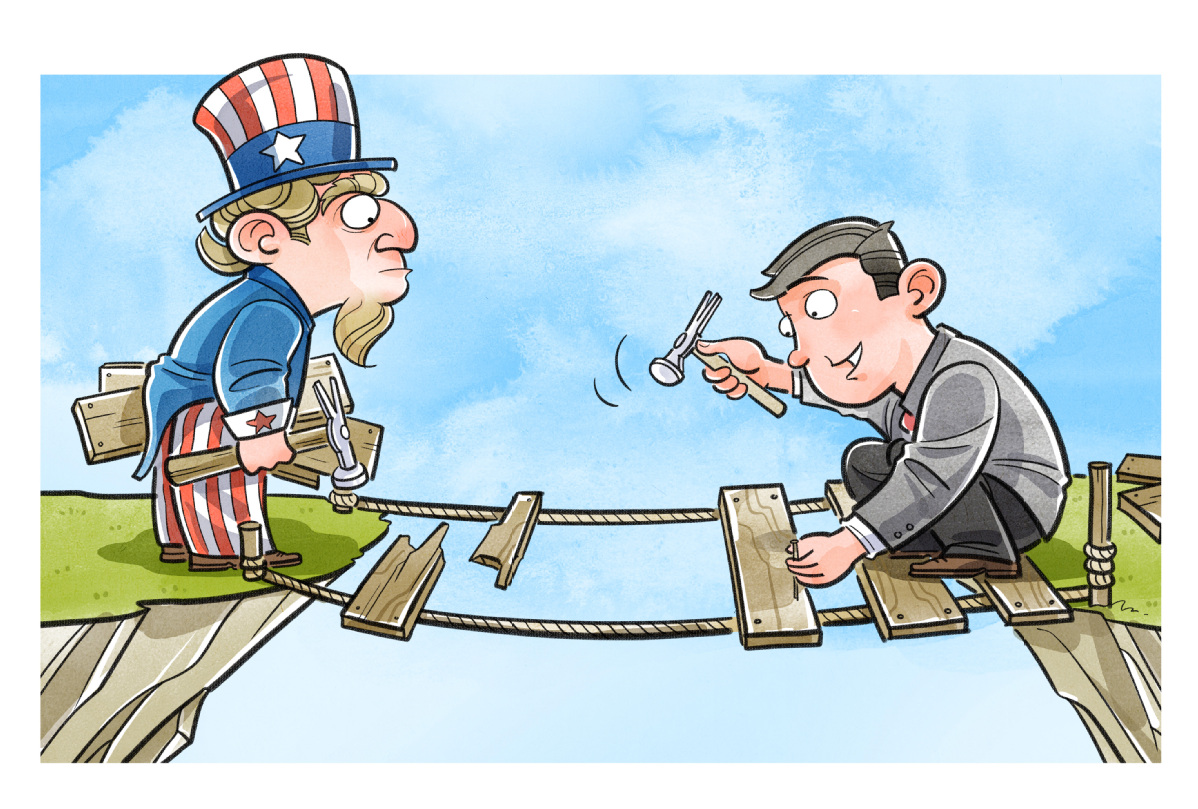 SONG CHEN/CHINA DAILY
A day before he began his five-day trip to Asia on Sunday, US Secretary of Defense Lloyd Austin said at a news conference that his visit was to boost military cooperation with the United States' allies and foster "credible deterrence" against China.
Notably, after visiting New Delhi alone, Austin will be joined by Secretary of State Antony Blinken during his visit to the Republic of Korea and Japan.
Talking about his first foreign visit since becoming the first African American to assume the post, Austin said: "One of the things that the secretary of state and I want to do is begin to strengthen the alliances. This will be more about listening and learning, getting their point of view."
The political, economic and military alliances the US formed after World War II have helped Washington to maintain its global dominance. Unlike the Donald Trump administration, which pressured US allies to pay more for the security the US provided, the Joe Biden administration is making more efforts to strengthen the alliances, and using them as deterrence to China.
In fact, the Biden administration called the first-ever leaders' summit of "Quad" countries-the US, India, Japan and Australia-on Friday in a bid to transform the slack mechanism born out of the Indo-Pacific concept and hyped up by Trump into a new bulwark against China.
The Biden administration has tried so hard to breathe life into the so-called Quad because it knows full well that the other three countries have close economic and trade relations with China. Therefore, instead of using a spurious and weak premise to establish an Indo-Pacific version of NATO, the US and its regional allies and partners should respond to common challenges, including effectively containing the novel coronavirus pandemic, boosting global economic recovery and fighting climate change, if they really want to engage with China.
Meanwhile, senior diplomats from China and the US will be meeting in Anchorage, Alaska, on Thursday. That the US intends to exert pressure on China by using the visits of Austin and Blinken to the ROK and Japan to show China's neighbors are on the US' side reflects the US' lack of confidence, vision and capability.
The Trump administration's four years show how unrealistic it is to try and isolate the largest trade partner of more than 120 countries and regions, the world's second-largest economy and the largest growth engine from the rest of the world. It is pity therefore that the incumbent administration continues the fool's errand that serves no party's interest, while ironically isolating the US itself.