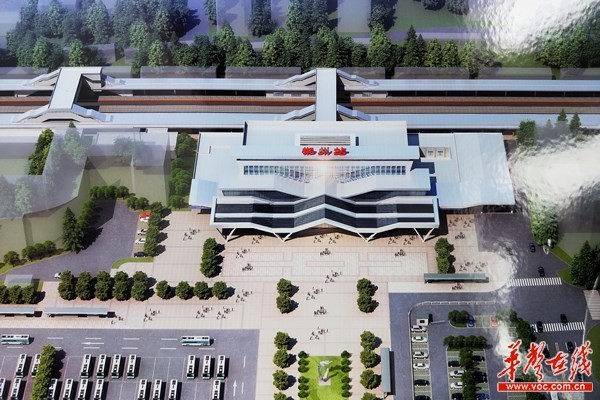 The rendering of renovated Chenzhou Railway Station. (Photo/Correspondent)
The Chenzhou Railway Station will be fully closed for upgrading, according to the unified arrangement of the China Railway Guangzhou Group Co., Ltd. and Chenzhou Municipal People's Government. Due to the influence of platform construction, the railway department will suspend all passenger transportation (including luggage and parcel) services since April 10 for about 4 months. After the renovation is completed, the station will reopen with a new look.
It was learned that the Chenzhou Railway Station renovation mainly involves the improvement of station buildings and platforms. Upon completion, 13 elevators and an overpass with a total length of 34 meters will be added. The station building, canopy, drainage pipe network, etc. will be reconstructed and optimized to comprehensively improve the station environment. The platform will be transformed into a high platform, and the height of the first and second platforms will be increased from the existing 0.3 meters to 1.25 meters, creating conditions for the operation of high-grade trains in the future.
The Chenzhou Railway Station reminded that during the upgrading and reconstruction period, passengers who need to travel by train, are advised to go to the Chenzhou West Railway Station to take the high-speed rail or choose other means of transportation. Passengers are encouraged to inform each other and arrange their travel plans reasonably in advance. The railway department apologizes for the inconvenience caused by the renovation project of the station!
This article is from Hunan Provincial Government www.enghunan.gov.cn.
Translator: Yu Jiangjiang
Chinese source:hunan.voc.com.cn