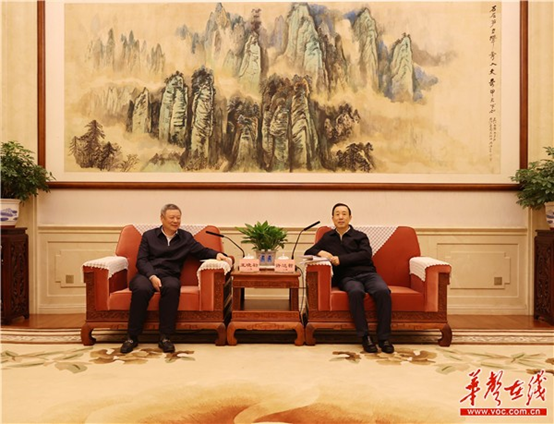 Xu Dazhe, CPC Hunan Provincial Committee secretary and Hunan Provincial People's Congress Standing Committee director, met in Changsha with Wang Xiaochu, China United Network Communications Group Co., Ltd. (China Unicom) chairman, and Chen Zhongyue, China Unicom general manager, on April 11, 2021. (Photo/Zhao Chi, Hunan Daily)
Secretary Xu said that Hunan is now striving to build the Three Highlands and fulfill the Four New Missions in accordance with the spirit of President Xi Jinping's important speeches made when inspecting Hunan. It will do a good job in advanced manufacturing development, technological innovation, and reform and opening up. He believed that efforts should be made to accelerate the deep integration of manufacturing and informatization; promote green and low-carbon production and lifestyles; and, develop the digital economy and cultivate new business formats and growth points, to blaze new trails in promoting high-quality development. It is necessary to work together and strengthen cooperation with powerful enterprises including China Unicom. Hunan Province has profound market potential, rich scientific and educational resources, and increasingly prominent location advantages, thus becoming a hot spot for entrepreneurship and business. He hoped China Unicom to participate in Hunan's implementation of the Three Highlands and Four New Missions Strategy; increase investment and project layout here; enhance business connection with enterprises in Hunan Province; and, achieve mutual benefits and win-win results with higher quality and efficiency.
Chairman Wang remarked that Hunan has enjoyed a strong momentum of development in recent years and its informatization has achieved remarkable results. China Unicom will continue to increase scientific and technological innovation, accelerate its business deployment in Hunan, and deepen collaboration with Hunan in the fields of communication infrastructure construction, 5G+ smart scene applications, smart city building, and new-generation information technology development. China Unicom will make its due contributions to helping Hunan build advanced manufacturing to achieve high-quality development.
Yao Laiying, CPC Hunan Provincial Standing Committee member and Hunan Provincial People's Government State-owned Assets Supervision and Administration Commission Party secretary, attended the meeting.
This article is from Hunan Provincial Government www.enghunan.gov.cn.
Translator: Yu Jiangjiang
Chinese source: hunan.gov.cn