Mao Weiming, deputy secretary of the CPC Hunan Provincial Committee and Hunan governor, made an inspection tour in Yueyang on April 10, 2021. He inspected works related to protection and renovation of the Yangtze Riverbank Hunan section, and resolving the key environmental problems assigned by the CPC Central Committee.
Mao stressed practicing President Xi Jinping's instructions on promoting ecological civilization; stepping up conservation of the Yangtze River and stopping its over development, in terms of the thinking and actions; enforcing the Yangtze River Protection Law; boosting ecological protection and green development along the Yangtze Riverbank Hunan section; and, taking measures to solve the key ecological environment problems assigned by the CPC Central Committee. The goal is building a most beautiful section of Yangtze Riverbank, and accelerating construction of a charming Hunan.
Chen Fei, Hunan vice governor, and Wang Qun, secretary general of the Hunan Provincial People's Government, attended the inspection.
Governor Mao inspects the water environment comprehensive improvement project at Dongfeng Lake, Yueyang.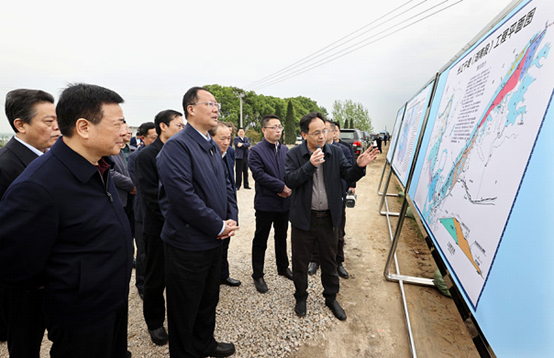 Governor Mao inspects Wumakou, the start point of a main dyke of Yangtze River Hunan section, in Huarong County.
The 163-km "golden waterway" of the Yangtze River Hunan section is within the region of Yueyang, which endows the city with important responsibility. Governor Mao started his tour from Wumakou in Huarong County, also the start point of the Yangtze River Hunan section. He visited Hualong dock, Chenglingji Qilishan Hydrometric Station, and Sanjiangkou, and Tieshanzui irrigation and drainage station along the river bank. He was glad to see vibrant scenes of solid dykes, green riverbanks, lucid water, and picturesque scenery.
President Xi Jinping put forward the call for "protecting Yangtze River" three years ago, Mao noted. Hunan should persist in giving priority to ecological progress and green development. Works should be coordinated to push forward ecological remediation and protection; promote water pollution treatment; optimize port layout; improve flood control capacity; and, build beautiful riverbanks.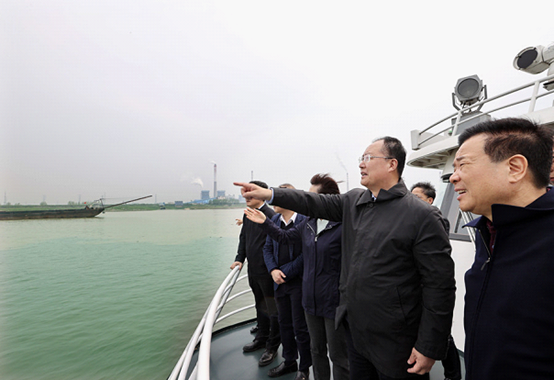 Governor Mao takes a boat trip to inspect Yueyang's Sanjiangkou, the confluence of Jinjiang, Yuanjiang, and Xiangjiang rivers.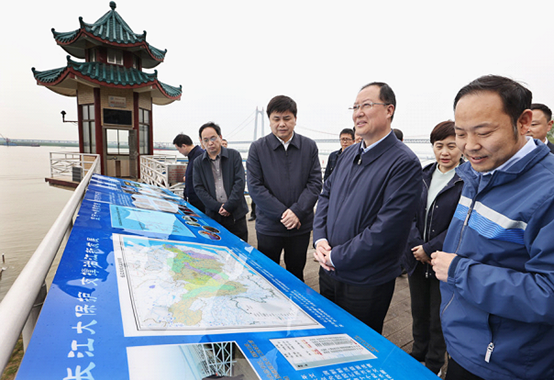 Governor Mao inspects Qilishan Hydrometric Station in Chenglingji, Yueyang.
This article is from Hunan Provincial Government www.enghunan.gov.cn.
Translator: Pang Yuehui
Chinese source: hunan.gov.cn