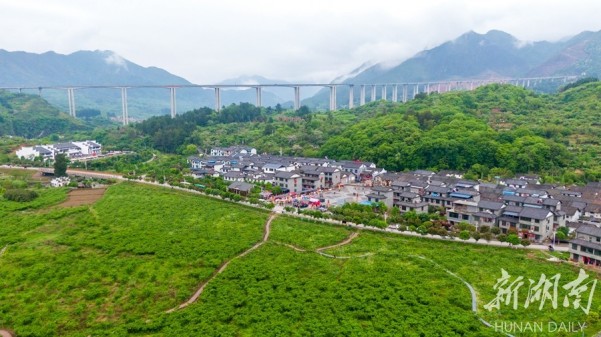 The photo, taken on April 10, shows orchards, forests, a highway, and rural residential houses forming a beautiful spring scenery at Shazhou Village, Wenming Yao Township, Rucheng County.
In recent years, the village has leveraged its red or revolutionary resources to develop red tourism and featured vegetable industry. There are more than 1,000 mu (66.7 ha.) orchard for fruits and vegetables such as Nai plum, yellow peach, Cuiguan pear, red pod pepper, and ginger. This helps increase local farmers' income. (Photo/Ouyang Changhai)
Shazhou is a Yao village and the home of a descendant of the protagonist of a revolutionary story. The revolutionary story features an impoverished villager named Xu Jiexiu, who offered shelter to three women Red Army soldiers during the Long March in the 1930s. Upon the soldiers' departure, they cut their only quilt into two pieces, leaving one part with Xu to show their care.
This article is from Hunan Provincial Government www.enghunan.gov.cn.
Translator: Xiao Juan
Chinese source: hunan.gov.cn