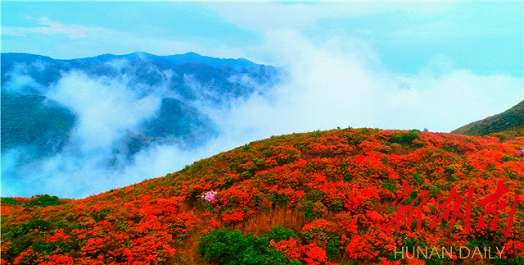 A press conference for the 13th Liuyang Dawei Mountain Azalea Festival was held on April 7, 2021. It announced that the festival will be held between April 20 and May 20.
Azalea, one of China's top 10 traditional famous flowers, is known as "A Beauty Among Flowers". It, together with primula and gentian, are called "The World's Top 3 Mountain Flowers". It is reputed as "The King of Woody Flowers" for its rich varieties, luxuriant multi-colored blossoms, and long flowering period.
Dawei Mountain in Liuyang enjoys the largest primitive wild azalea community in central China, which covers an area of more than 100,000 mu. There are 38 varieties of azaleas widely distributed on the mountain. Seas of azalea flowers are seen in valleys and at the crest of slopes at an elevation of over 1,200 meters above sea level, near the Qixing Ridge, Honglian Temple and Wuzhishi Scenic Spot. Due to the differences in topography and altitude, different varieties of azalea flowers bloom successively on Dawei Mountain from mid-April to mid-May every year. They turn the whole mountain range into a wonderful world of flowers.
A series of activities will be held during the month-long festival, including:
--The First Liuyang Dawei Mountain Forest Healthcare Forum;
--A 100-km Trailwalk and revolutionary song singing event to celebrate the centenary of the founding of the Party;
--The Hunan Specialty Food Festival;
--A large art show themed "Sea of Azalea Flowers";
--Enjoying flowers on a helicopter;
--A professional photography competition themed "Dawei Mountain's Beautiful Scenery";
--A live streaming competition amid azalea flowers;
--The Revolutionary Film Week; and,
--A concert of revolutionary film songs.
Source: en.changsha.gov.cn