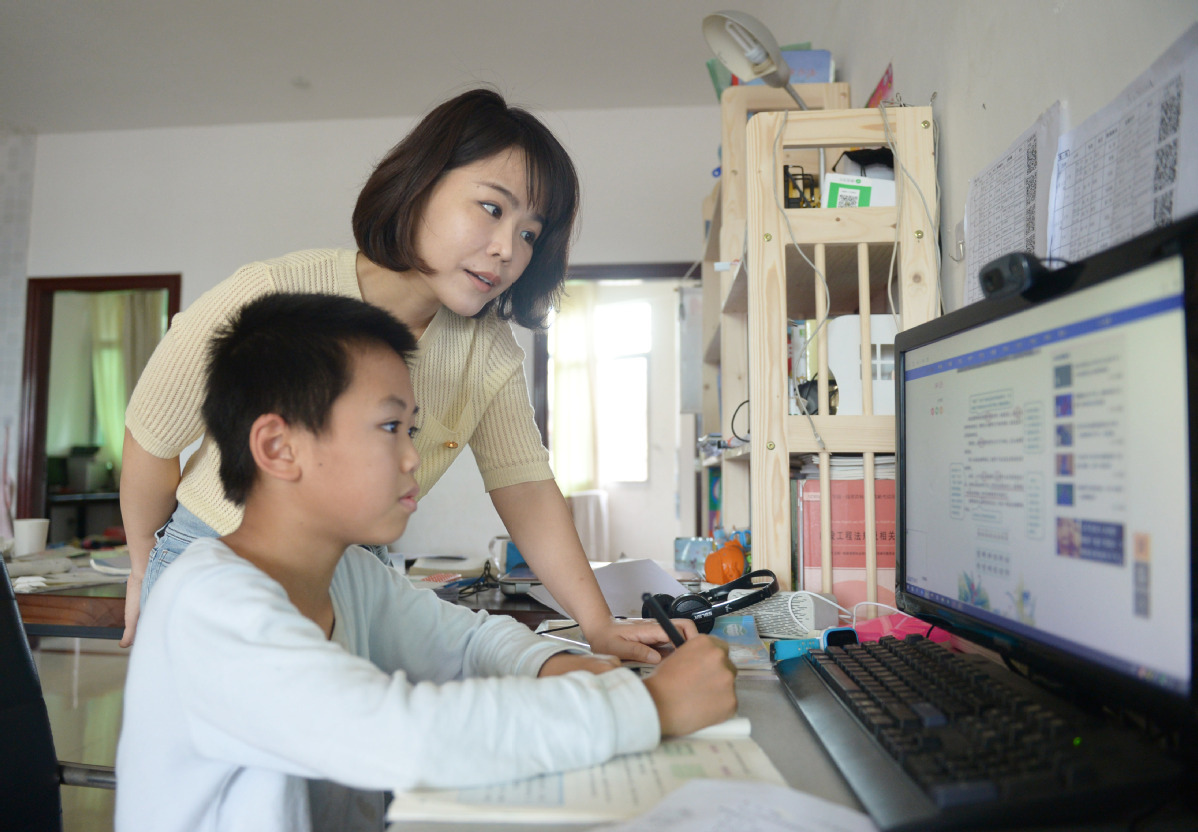 A student does his homework in front of a computer. [Photo provided to chinadaily.com.cn]
New notice also says schools should ensure two hours of exercise every day
Local education authorities should include homework management in their school evaluations, the Ministry of Education said in a new notice as part of efforts to reduce the excessive academic burden on primary and middle school students.
Schools should include homework design, grading and feedback in evaluations of teachers, and local education authorities should open hotlines and other platforms to the public for schools' homework management, the notice said on Sunday.
First and second graders should have no written homework, and primary school students should have an average of less than an hour of homework every day, the notice said. Middle school students should have an average of less than 90 minutes.
Schools should also control the amount of homework on weekends and holidays, it said.
Teachers should make full use of classroom time and after-school services to make sure primary school students can basically finish all work at school and that middle school students can complete most of it, it said.
The difficulty of the homework should not exceed national curriculum standards, and there should be no repetitive or punitive homework. Teachers should grade the homework themselves, not ask students or parents to do it, the notice added.
In a separate notice, the ministry asked schools to ensure two hours of daily exercise for primary and middle school students.
Schools should open a sufficient number of physical education courses - four for first and second graders and three for third, fourth, fifth and sixth graders and middle school students - the notice said, adding that the ministry encourages schools to conduct one PE course every day.
Wang Dengfeng, head of the ministry's department of physical, health and arts education, said PE should be included in evaluations of schools, local education authorities and local governments, and should partly determine teachers' salaries and professional titles.
PE test scores will gradually carry more weight in high school entrance exams and become an important part of students' overall evaluation for college enrollment, he said.
"While we asked schools to reduce the amount of academic homework, there should be more homework on physical training so students can learn basic sports skills and become healthier," he said.
Li Mingxin, principal of Beijing Primary School, said the notices show the government's strong determination to reduce students' excessive academic burden and promote the all-around development of students.
Parents should also properly organize students' spare time and not assign them extra homework or ask them to attend too many after-school tutoring courses, he said.