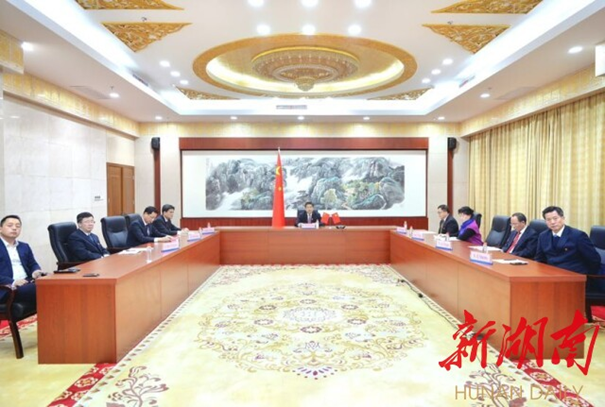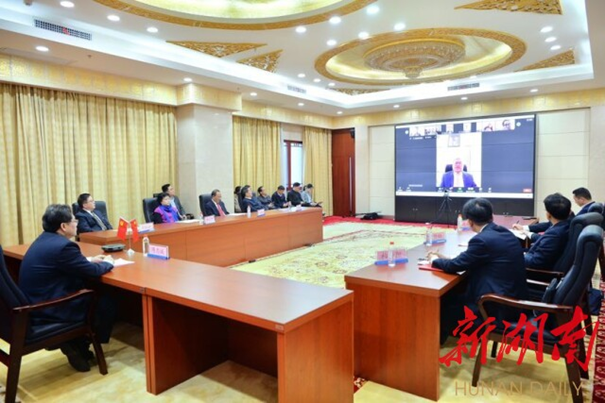 On April 27, the Communist Party of China (CPC) and the ruling party of Madagascar held a video meeting on the topic of "role of ruling party in agricultural development and poverty elimination", and launched an online cadre seminar.
Li Mingxiang, assistant minister of the International Department of the CPC Central Committee, Sui Zhongcheng, Hunan vice governor, and Holder, member of the Madagascar ruling party cabinet, attended and addressed the opening ceremony.
Other attendees included: 30 Madagascar senior cadres, including chairpersons of the National Assembly and the Senate, and ministers of the Ministry of Agriculture, Livestock, and Fisheries and the Ministry of Youth and Sports; Jean Louis Robinson, ambassador of the Republic of Madagascar to China; and, Guo Xiaomei, Chinese ambassador in Madagascar.
Assistant Minister Li congratulated the opening of the seminar. He introduced the great achievements made over the past century since the founding of the CPC, especially the successes and experiences of China's fight against poverty under the leadership of the CPC Central Committee with Comrade Xi Jinping at its core. China is willing to establish new political relationship with the Madagascar ruling party based on mutual respect, mutual learning, and seeking common ground while shelving differences. He expected to promote high-level exchanges and strategic communication, carry out experience sharing on governance, and boost cooperation in various fields, so as to benefit the people of both countries.
Vice Governor Sui presented Hunan's work and progress in agricultural development, poverty alleviation, and rural vitalization. He expressed willingness to deepen collaboration with Madagascar in agriculture, economy and trade, and tourism, and make greater contributions to the Belt and Road Initiative.
Mr. Holder congratulated the 100th anniversary of the founding of the CPC. He noted that, Madagascar government is willing to learn from China's governance experiences, facilitate an in-depth cooperation of the Initiative Emergence Madagascar  and the Belt and Road Initiative, and work with China to build an even stronger community with a shared future.
During the two-day seminar, the Chinese and Madagascar attendees will exchange views on further deepening relationship between the two Parties and the two countries. Some observation activities will be organized online, such as visiting Hunan township Party committees, and learning about Hunan's agricultural development and poverty alleviation achievements.
This article is from Hunan Provincial Government www.enghunan.gov.cn.
Translator: Pang Yuehui
Chinese source: hunan.voc.com.cn